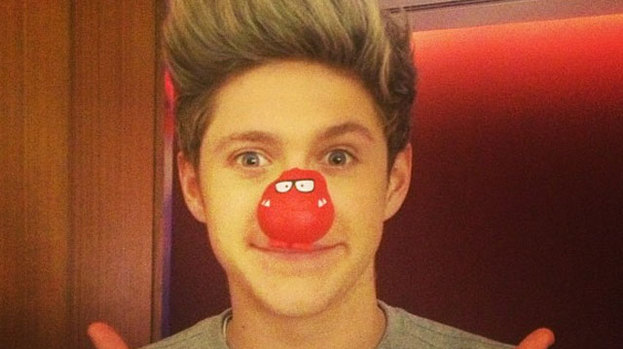 It's Friday the 15th March which can mean only one thing – it's Red Nose Day!
Amongst those getting excited about tonight's fundraising extravaganza are the One Direction boys.
The lads have been heavily involved in Comic Relief this year, travelling to Ghana to find out how the funds raised from the charity are spent, auctioning off their clothes and, of course, recording this year's charity single.
Ahead of performing One Way or Another on tonight's programme, Zayn Malik tweeted: "Excited for @rednoseday today gunna be amazing :D xx (sic)"
Niall Horan also took to Twitter to tell fans: "Happy @rednoseday ! Lookin forward to today ! Hopefully everyone gets behind a great cause (sic)"
On the One Direction account, he treated fans to a cute picture of himself sporting a red nose – how does he manage to look good in one of those?
As well as 1D's hotly anticipated performance tonight, a host of other celebrities are set to take part to help raise millions for charities throughout the world.
Other highlights are set to include a special Anchorman sketch, Simon Cowell and David Walliams' marriage and a return of the Vicar of Dibley.
Pop star Jessie J is also set to shave off her hair for the cause, live on TV.
It's certainly going to be an entertaining night.
Related articles