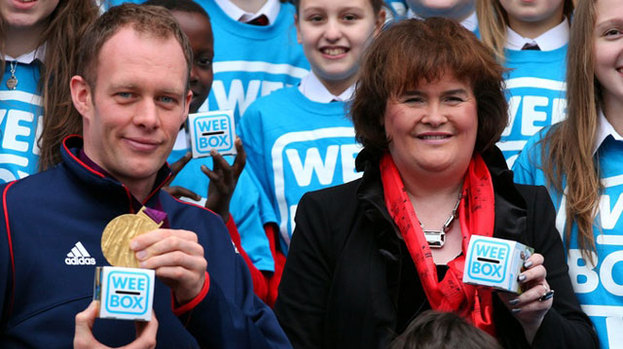 Susan Boyle showed off her kind, caring side today, as the Scottish singing sensation helped launch a new campaign with charity Sciaf to help tackle global poverty.
The Wild Horses singer teamed up with Paralympic gold medallist David Smith to mark the beginning of the Scottish Catholic International Aid Fund's (Sciaf) Wee Box, Big Change appeal for Lent.
The charity is asking people to forgo one of the treats they normally have and put the money they save as a result in one of the Sciaf Wee Boxes, before donating it to the charity at Easter.
The cash built up will then be used to help the charity's projects in Africa, Asia and Latin America.
Sciaf is a charity that Susan has supported for several years and the chart-topping singer explained why she's ditching sweets, chocolate and crisps to take part in the latest initiative.
"It's important that we all have dreams. I'm very fortunate to be living mine," Susan explained.
"For other people, affected by terrible poverty, war or disease, they dream of peace, good health and having enough food to eat.
"I'm supporting Sciaf's Wee Box, Big Change campaign by giving up sweets, chocolate and crisps because I know Sciaf works side by side with people in poor countries to help them overcome poverty and the challenges they face.
"They help people to live their dreams. I'd encourage everyone to join the campaign."
Paralympic athlete David, who travelled to Burundi in December to witness some of the important work the charity carries out first hand, also talked about backing Sciaf's Wee Box, Big Change project.
"With money donated by the Scottish public, Sciaf is helping so many people become free from hunger and poverty by giving practical help such as agricultural training, seeds and tools," he said.
"When you see the difference Sciaf is making to the lives of extremely poor people every day, you have to help."
Other big names getting involved this year include Scots stars actor Robert Carlyle, broadcaster Kaye Adams and Rangers manager Ally McCoist.
Last year, over £830,000 was raised by the charity and Sciaf director Patricia Chalé is hoping that with the huge support this year's figure will match or increase that.
"We are extremely fortunate to have high-profile Scots including Susan Boyle, Robert Carlyle and David Smith, and thousands of Scots across the country taking part in the campaign," Patricia explained.
"Their sacrifices during Lent will help Sciaf to support some of the world's poorest people to overcome hunger, poverty, war and disease."
More About Susan Boyle
Related articles