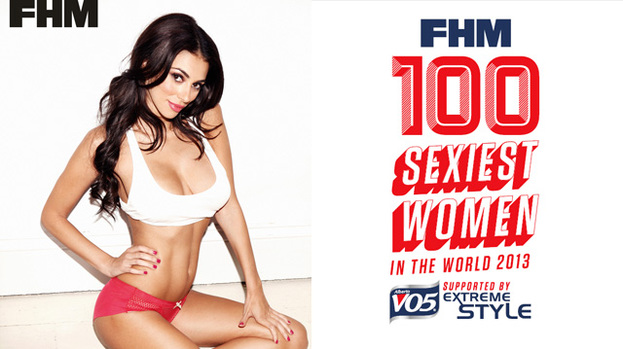 Georgia Salpa has helped launch the opening of voting in FHM Magazine's annual 100 Sexiest Women in the World 2013 poll, with a sexy photo shoot in this week's issue.
The Greek-born Irish model was fifth last year – could the latest snaps of her wearing, well, not much, help her get closer to the top spot this year?
The stunning former Celebrity Big Brother star, who is often likened to Kim Kardashian, said: "The shoot was great! I loved wearing the super-skimpy lingerie. It's great doing a shoot when you feel so sexy."
She added: "I remember FHM 100 Sexiest Women in the World from when I was at school! All the boys would buy it and the girls loved looking through it."
When asked who would get her vote, Georgia said: "Daisy Lowe and Olivia Palermo, they're both gorgeous!"
X Factor judge Tulisa Contostavlos was voted Sexiest Woman last year, beating off competition from Cheryl Cole and Rihanna, who finished second and third respectively.
Upon hearing the news, she said: "It's a true honour and definitely a lovely confidence boost. I'm proud of me and I am who I am. I know that I'm 'Marmite' and I wouldn't wanna be anything less or anything more, I'm just myself.
"The FHM shoot is without a doubt the sexiest thing I've ever done. I believe in embracing being sexy but I'm not one to agree with stripping off for the cameras, I like to be more subtle than that as these shots show. This is an award that will stay on the mantelpiece probably for the rest of my life.''
Who will be putting the award on their mantelpiece this year?
Georgia launches the opening of voting in the *FHM's 100 Sexiest Women in the World 2013. To register you vote now visit www.fhm.com/100sexiest*
Related articles