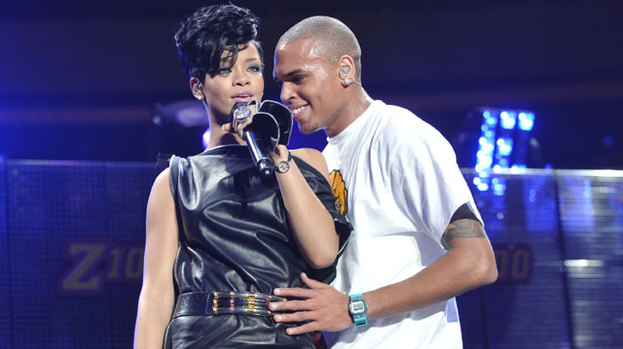 Rihanna has finally confirmed the news many of her fans have been dreading – she has indeed reunited with ex-boyfriend, rapper and singer Chris Brown.
The couple split in 2009 after Chris attacked the star during an argument after the Grammy Awards. He entered a guilty plea to the charge of felony assault and agreed a plea bargain for the offence, being sentenced to five years of probation and 180 days of community labour in August that year.
The pair went their separate ways and carried on with their own careers and lives.
But in recent months they have been spotted together more and more, with onlookers putting the pieces together.
Now Ri-Ri has officially confirmed what everyone suspected, during an interview with Rolling Stone magazine.
Explaining her decision to reunite with Chris, Rihanna said: "I decided it was more important for me to be happy. I wasn't going to let anybody's opinion get in the way of that.
"Even if it's a mistake, it's my mistake. I decided it was more important for me to be happy. After being tormented for so many years, being angry and dark, I'd rather just live my truth and take the backlash. I can handle it."
Fans of Rihanna's were left shocked when pictures of the Bajan beauty surfaced showing her in a bloodied and bruised state following the attack in February 2009.
But the star has said she's confident that Chris has changed.
"You see us walking somewhere, driving somewhere, in the studio, in the club, and you think you know. But it's different now. We don't have those types of arguments anymore. We talk about s***. We value each other. We know exactly what we have now, and we don't want to lose that."
The star added: "He doesn't have the luxury of f****** up again. That's just not an option. I can't say that nothing else will ever go wrong. But I'm pretty solid in the knowing that he's disgusted by that. And I wouldn't have gone this far if I ever thought that was a possibility.
"He made a mistake, and he's paid his dues. He's paid so much. And I know that's not a place he would ever want to go back to. And sometimes people need support and encouragement, instead of ridicule and criticism and bashing."
Chris was recently been investigated over an alleged fight with fellow singer Frank Ocean on January 27.
Related articles