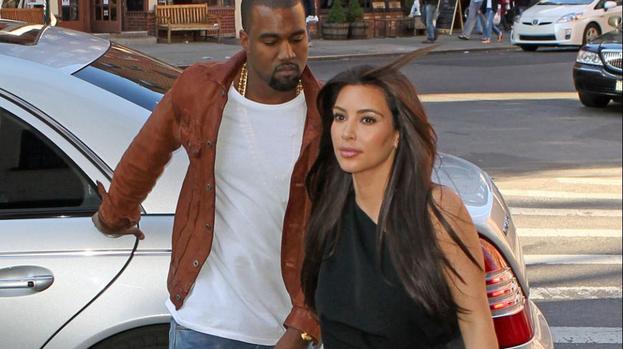 Kim Kardashian and Kanye West are to pledge their to spend their lives together in a commitment ceremony, ahead of their baby's birth, according to reports.
Through The Wire rapper Kanye is said to be desperate to marry Kim, who is pregnant with their first child. But this is impossible as the Keeping Up with the Kardashians star is still officially married to her second husband, basketball pro Kris Humphries.
So, as an alternative, the couple are believed to have come up with the idea of the commitment ceremony, during which they'll say vows and exchange rings.
A source told The Sun: "Kanye is very traditional. He'd have liked to marry Kim now they are having a baby.
"But with Kim still married to someone else, there is not much he can do.
"It won't be official like a wedding because Kanye wants that to be extra special when the time comes.
"But they will still exchange rings – they just won't wear them on their wedding fingers."
The insider added: "One of Kim's friends is lending them his £7million Malibu beach mansion and the entire bash will take place there. It'll be a lot more low-key than a wedding."
Kim's last wedding was certainly a flashy affair; Kris presented the star with a mammoth 20.5 carat Lorraine Schwartz diamond ring and the couple soon wed in a flashy sunset ceremony in August 2011.
Around 450 guests were in attendance, including TV and radio presenter Ryan Seacrest, Desperate Housewives actress Eva Longoria, tennis siblings Venus and Serena Williams, singer Avril Lavigne and actress Lindsay Lohan.
Kim wore no less than three wedding dresses throughout the day, and the couple are thought to have had a cake taller than the bride herself – a six foot black and white creation reported to have cost between $15,000 to $20,000, – which works out at between £9,300 to £12,400.
But despite the lavish nuptials, just 72 days later Kim announced that she was filing for divorce citing "irreconcilable differences".
The reality TV personality was previously married to music producer Damon Thomas for four years.
More About The Kardashians
Related articles