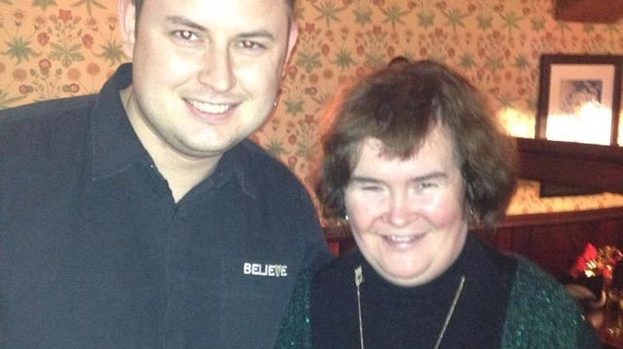 Despite being one of the most successful recording artists in the world, Susan Boyle likes nothing better than a karaoke session with friends.
Enjoying a well earned break over the festive season, the former Britain's Got Talent star delighted locals at the Tartan Arms in Bannockburn, when she took to the mic at the popular pub.
One lucky lady, who witnessed Susan in action, said: "She was really lovely and very down to earth.
"Susan arrived with two friends and was only too happy to pose for pictures with fans." One such fan was barman Kevin Wilson, featured in the image above, who was delighted to get a snap with the Blackburn belter.
Ms Boyle performed two songs to cheers from the excited crowds, with her rendition of Patsy Cline's classic Crazy proving a winner with fans.
Susan was keen to get into the festive spirit, dressed in a green glittery cardigan, with her nails painted bright red.
The Scottish star is looking forward to an exciting 2013, with plans to continue performing, recording and living the musical dream.
Speaking about her goals for the future, she said: "Hopefully more of the same for many years to come. I'm very glad to be here and I want to stay."
Susan added that singing has truly helped her in life, explaining: "I found through singing I could communicate when words would often fail me and I'd get frustrated.
"Singing removed me from the life I was living and I could become someone totally different, untouchable. Instead of laughing at me people would applaud me and be positive, that's why I took such comfort in the early days when I was on stage be it in the local theatre or just singing in my local pub. It made me feel better about myself."
As the chants of "SuBo" resonated around the Tartan Arms on December 27, it's safe to say Susan has become a national treasure. Happy New Year Susan.
More About Susan Boyle
Related articles