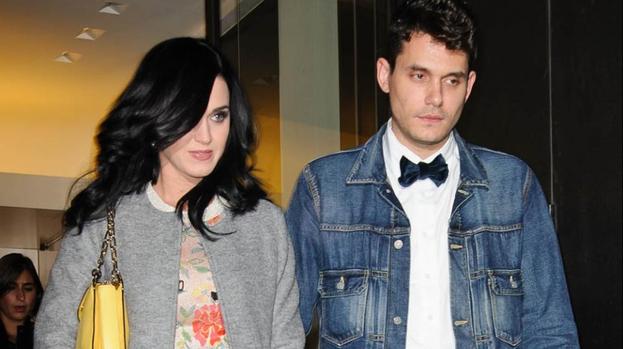 Despite months of media speculation about their apparent on-off relationship, Katy Perry has finally confirmed that singer John Mayer is indeed her 'boyfriend'.
The Firework singer accompanied John and his father to dinner and the theatre on Wednesday evening where the trio got into the festive spirit watching the Broadway musical production of A Christmas Story.
After the show, they headed backstage at the Lunt-Fontanne theatre to meet and greet the young cast members who managed to get more information from the chart-topper than any tabloid has in the last few months.
Introducing her 35-year-old squeeze, Katy told the children: "This is my boyfriend, John."
American magazine Us Weekly also reported that the Grammy-nominated singer was keen to involve the musician in the festivities, saying: "Come on, baby, let's take a picture."
The following night, the pair cosied up together at a Rolling Stones concert in New Jersey.
Lost in the music, Katy and John were pictured gazing lovingly into each others' eyes, with John whispering sweet nothings into his beaming girlfriend's ear.
Katy, whose cat is named Kitty Purry, certainly looked like the cat who got the cream as John joined the legendary rock band on stage to perform Stones hit Respectable.
The ageing rockers were suitably impressed with the Your Body Is A Wonderland star and his musical prowess, later tweeting: "John Mayer! Take a bow John, fantastic! Thank you!" #StonesNJ @johnmayer."
Katy split from British comic husband Russell Brand last year, just 14 months after their fairytale Hindu wedding in India in 2010.
Since the split, the 28-year-old has also been linked with model Baptiste Giabiconi and Florence and the Machine guitarist Rob Ackroyd.
Related articles