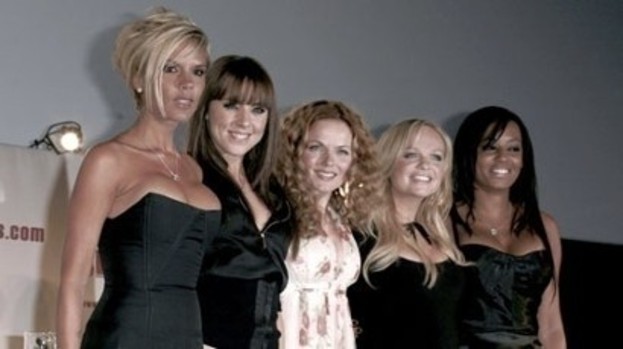 The premiere of the West End musical based on the songs of the Spice Girls was delayed last night – after Victoria Beckham and her family got stuck in London traffic.
Posh Spice was late to the opening night of Viva Forever! - written by Absolutely Fabulous' Jennifer Saunders and featuring the music of the 'girl power' group - and sat with her children during the show while the other four Spice Girls sat as a group.
Victoria's four bandmates met up earlier at the nearby Corinthia Hotel to dress up for the premiere and arrived on the red carpet together, posing happily for the waiting papparazi before going into the theatre.
The four – Geri Halliwell, Mel B, Emma Bunton and Mel C – were dressed to the nines and joked around together for the photographers' benefit.
Victoria arrived with husband David and their three sons later. The fashion designer was dressed simply in black trousers and jacket, while the boys all wore suits.
Geri said of the show later: "What a privilege - the songs that we wrote a West End cast are now singing... we're truly blessed that everybody still supports the Spice Girls."
Sporty Spice, Mel C , added: "We're so proud of this. Jennifer Saunders has written an incredible story and we have a wonderful cast. It's a great, great show."
Viva Forever! is on at London's Piccadilly Theatre.
This article is powered by Well Contented Ltd