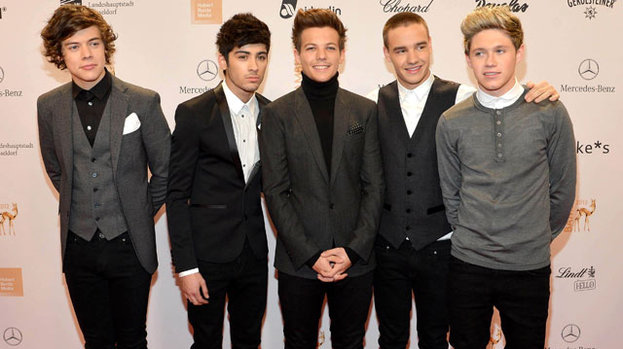 One Direction played the biggest gig of their lives last night when they took to the stage at Madison Square Garden.
It seems the week of intense rehearsals in New York, ahead of the show, paid off as the lads Tweeted their joy when they came off stage.
Niall Horan seemed most excited, as he told fans: "Wow, madison square garden,thank you soo much! It was the best night of our lives! Thank you thank you thank you ! #1DinMSG"
The Irish cutie added: "Goin t sleep! Chat tomorrow! Still can't believe we just played @thegarden ! Thank you."
Liam Payne was just as thrilled, as he wrote: "What a night! I had soooo much fun! Thank you to everyone who came to see us and everyone of our fans who support us! I love you loads :)."
Harry Styles was clearly too occupied catching up with Taylor Swift after the show to visit the social networking site, but before he posted a sweet Tweet to fans, saying: "Thinking about what we were doing three years ago... Today we play Madison Square Garden. We can never say thank you enough. We love you xx"
The Madison Square Garden concert was the icing on the cake for the One Direction boys, who have gone from coming third on the X Factor in 2010 to become the biggest boyband in the world.
After winning numerous awards and watching their second album, Take Me Home, go to number one in a whopping 32 countries, playing to the sold out crowd at New York's iconic venue was a truly magical experience for the talented five.
As well as their families flying over to the US to share in the excitement, the boys' girlfriends were there to cheer them on.
Perrie Edwards, complete with purple hair, joined her mum and brother in watching Zayn Malik, while Taylor Swift was there to witness new love Harry Styles work his magic on stage.
Eleanor Calder was thrilled to watch Louis Tomlinson strut his stuff, while Danielle Peazer flew to the US to reunite with Liam Payne, following their split in September.
Once the group get over the excitement of their phenomenal New York show, the lads will return to the UK for an Xtra special performance on this weekend's X Factor final. What a year.
More About One Direction
Related articles
People who read this story also read