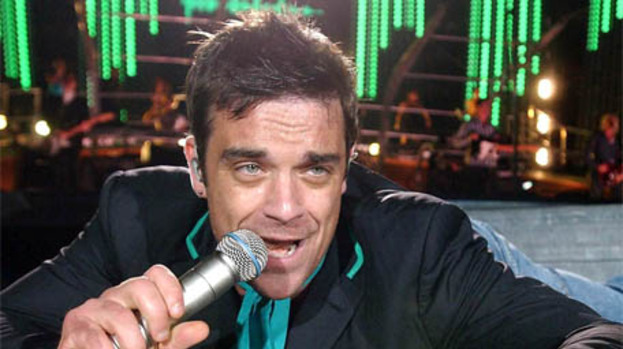 Robbie Williams has admitted to having a gigantic ego. The admission came in a frank interview with pal James Corden.
He also revealed that he thinks he's got what it takes to be a national treasure.
On the interview on Sky 1's When Robbie Met James he said: "'I have a gigantic ego and need to be at the top of the pile and be doing amazingly well; also at the same time I'm just pleased to be anywhere."
He discussed how he felt when his former band mates Take That re-formed and burst back onto the music scene in 2006.
He was experiencing a bit of a lull himself. He said: "The TT stuff was all happening whilst I was all going, 'I want nothing to do with anything. I want to go and get on a couch and I want to have honey Dijon crisps and I want to watch reality TV and do nothing forever'.
"I was gobsmacked. Gobsmacked in all manner of everything. On the pie chart, everything is in there. Sort of wow, we meant that much to people, that's great. They mean that much to people? That's s**t.
"I think it was confusion more than anything, and pleased for the boys, you know not too pleased that I wanted them to take over the joint, you know. Just don't smash the living daylights out of it, like they did."
He made up with the band and rejoined Take That in 2010, but he has to have a solo project going on at the same time.
"Do I think I'm a national treasure? I don't see why not? I don't see why I shouldn't be. I'm a good lad really," he added modestly.
Related articles
People who read this story also read