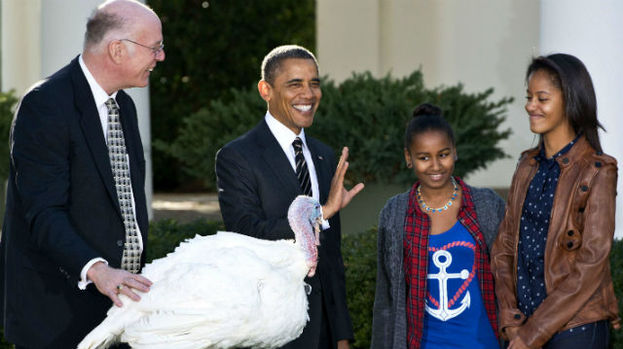 Barack Obama has granted a presidential pardon to a 40 pound turkey as part of the United States' Thanksgiving celebrations.
The light-hearted annual event saw President Obama joined outside the White House by his daughters, Sasha and Malia, where he saved the bird from the chopping block.
Joking about his recent re-election, he said: "They say life is all about second chances. And this November, I couldn't agree more."
This year was the first time that the American people got the chance to vote online for which turkey would be "pardoned", with two turkeys from a farm in Rockingham County, Virginia, chosen as the candidates.
Obama announced that "Cobbler" had won the online petition, but in actual fact neither bird will be slaughtered. They will, instead, live out there days at Mount Vernon Estate in Virginia, the historic home of George Washington.
Since 1947 America's turkey farmers have given the president a turkey every Thanksgiving, but it wasn't until 1963 that President John F. Kennedy chose to send his back.
In 1989 President Bush senior officially pardoned his Thanksgiving turkey and the tradition has continued since then.
Related articles
People who read this story also read