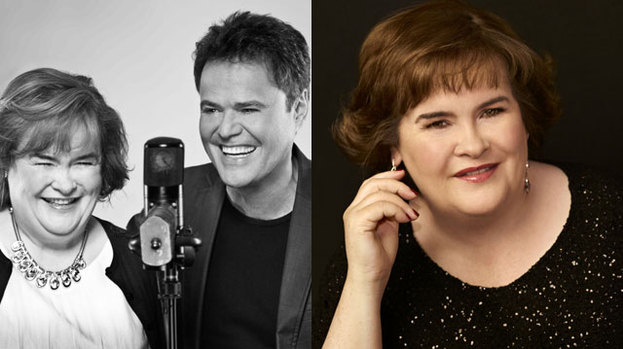 Susan Boyle's stunning audition of I Dreamed A Dream on Britain's Got Talent caused legendary performer Donny Osmond break down in tears because he was so moved by her performance, he has revealed.
The singer, actor and TV personality opened up about how impressed he was when he saw Scottish star Susan on the show in 2009, before she became a worldwide singing sensation.
Speaking in a backstage video from hit US show Dancing With The Stars, Donny told Susan: "I'll never forget the first time I saw you sing on Britain's Got Talent and I had the same reaction that Simon [Cowell] and everybody else had.
"I watched you come out on stage and I thought 'okay, this is going to be a nice little song'. And you opened your mouth and it was the voice of an angel. And I'm not making this up because you're sitting next to me, but I started crying.
"And I watched it probably 20 times, over and over and over again. And little did I know that a few yeas later we'd be singing together."
Susan is a massive fan of Donny's and has been from her early teens, with the Blackburn-based singer opening up about when she first fell in love with his music.
"I first became a fan of Donny Osmond when I was 13 and it was when my brother first bought my first record player, LPs they were at the time not CDs," Susan revealed.
Check out the interview below.
Now the pair are firm friends, most recently teaming up on the song This Is The Moment, which features on Susan's fourth studio album, Standing Ovation.
After singing the song during a recent performance on DWTS Donny revealed it was his wife Debbie who urged them to perform it together.
"My wife told me, she said "Donny you've got to convince Susan to sing This Is The Moment because that would be the one to sing on Dancing With The Stars. And she was right, we just finished the song and the crowd went crazy. It was just the most amazing moment for me too. I got he chills when you [Susan] sang."
As well as their duet on This Is The Moment, the pair also teamed up the track All I Ask of You on Susan's latest album Standing Ovation.
The album - Susan's fourth in three years - features a number of other popular film and stage tracks, including Somewhere Over The Rainbow and Memory and Send In The Clowns is released on Monday November 19.
Talking about the inspiration for her latest musical offering, Susan said; "I have been a fan of musicals since I was a wee girl. I love them and have enjoyed the drama and the range of emotions they inspire in you.
"Creating this album was a joy and came very naturally as I knew the songs and could identify with the characters in the studio. Recording with Donny on two songs was a dream come true. Working with him was awesome and I learned so much from him as a performer and a person. Being in the studio with him was without doubt the best day ever - it wasn't work!"
You can pre-order Standing Ovation on Amazon now.
More About Susan Boyle
Related articles
People who read this story also read