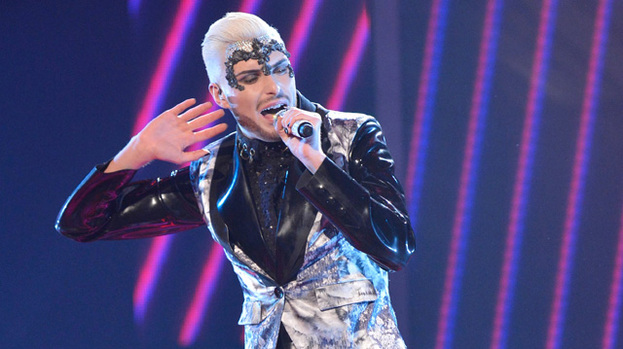 Oh yes! It turned out to be an evening of ups and downs for the stars of X Factor 2012. While Jahmene Douglas held on to his crown as favourite, Ella Henderson, the other bookies favourite what you might describe as an underwhelming night.
No doubt she will be hoping that her poor song choice will not translate into low votes.
However, should Ella or one of the other favourites find themselves in the sing-off on Sunday night, attention might be given to the controversial decision to allow Lucy Spraggan a free pass on to next weeks show. The singer/guitarist is currently bedridden with severe flu - poor Lucy!
The Halloween theme made for some interesting costumes. Rylan Clark arrived on stage in a garish multi-coloured waistcoat, his face covered in jewellery. Did he even know what he was supposed to be dressed as? At least his old nemesis, Gary Barlow took it easy on him, damning him with faint praise this time. "It was so loud I couldn't hear you sing, that's a good thing."
This weeks Celebrity guest, Robbie Williams met the acts throughout the course of this week and perhaps hoping to wind up his old Take That band mate, made a point of publicly backing Rylan Clark. How Gary must have been fuming at that turn of events!
Ella Henderson has been one of the more consistent performers during this run of live shows and has been regularly touted by the judges as a future star despite her tender years. At 16 years-old, the Grimsby girl is the youngest contestant.
Her powerful voice has not failed her yet but the choice to cover Evanescence's 2003 hit Bring Me To Life did not go down well with the judges. Even her mentor Tulisa, fumbled for words, focusing praise on Ella's costume and make-up rather than the actual performance.
This, of course is what makes X Factor so gripping. Last week's favourite can easily find themselves in the next week's sing-off. Ella will be hoping that fans will remember her previous performances instead of judging her on tonight's attempt.
As the judges deliberated over another 80's power ballad from Christopher Maloney, a minor spat broke out between Gary and Tulisa.
After Tulisa criticised Christopher's performance, mentor Gary reacted angrily telling her, "I don't know what offended me more, what you said or your fag ash breath."
The N-Dubz singer took offence but wasn't going to idly sit there and be insulted. She took the Take That man to task, telling him, "maybe you should lay off the red wine before the show."
The incident seemed to be on the verge of boiling over into something nastier until host Dermot O'Leary intervened. Poor Christopher Maloney stood on stage, looking visibly upset as he tried to defend his performance, no doubt aware that he could very easily end up in tomorrow's sing-off if the public side with Tulisa.
It wasn't a good night either for District3. Their mash-up of Every Breath You Take by The Police and Beautiful Monster by Ne-Yo left the judges unconvinced. Their Clockwork Orange costumes confused American judge Nicole Scherzinger who it appears has never seen of the famous film. She also agreed with Gary Barlow's comment that, "This week was a massive step backwards. It was a mess."
Mentor Louis was left appealing to the public to give them another chance, "It wasn't as good as last week – but the potential in these boys is fantastic," said the Irishman with just a hint of desperation in his eyes.
Louis other group, Union-J performed better although the hard to please Gary Barlow told them that he had seen it all before and wanted something new from them.
James Arthur, like his fellow contestant Jahmene Douglas can't seem to put a foot wrong and his tremendous gothic performance of Eurythmics Sweet Dreams left all the judges stunned and full of praise.
One unexpected area of disappointment came from the charismatic and normally reliable Jade Ellis. All eyes were on Jade, who was expected to come roaring back this week after an under par performance on last weeks show. Her swollen vocal chords have improved but Louis and Nicole were left unimpressed by her take on the Sugababes classic Freak Like Me.
"I feel that song was a bad choice for you. It was more style than substance," Louis explained.
Dressed in a black skin-tight rubber bodysuit, Jade didn't look comfortable strutting across the stage and her vocals seemed to suffer as a result. Maybe her confidence has taken a knock after last week but mentor Tulisa will be hoping the single mum can live up to her early potential and avoid the dreaded sing-off on Sunday night.
Related articles
People who read this story also read