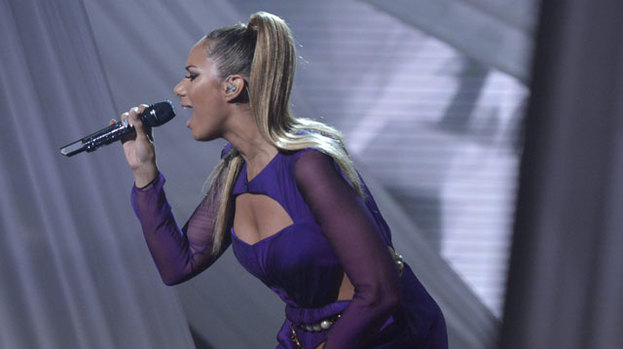 Leona Lewis has long been saddled with the 'boring' pop star tag, but the Bleeding Love singer is clearly trying to shrug that off, after revealing details of her slightly saucier side.
Speaking during a recent interview, the stunning 27-year-old revealed that she has a crazier side to her, and singing ballads isn't all she's about.
Asked what the wildest thing she's ever done is, Leona told Star magazine: "I like to skinny dip! Well, I went on holiday on my own to a nudist colony."
She added: "Yeah it wasn't on purpose, but the place where I wanted to go is quite hippy-ish and clothing is optional. I didn't actually realise until I got there, but it was quite fun, because no one knew me and I was there on my own and I had a nice little time when I was there."
Asking if she let it "all hang out" during her nude holiday, Leona laughed: "Not everywhere, no! I think I was one of the only people with my clothes on, but it was interesting to be with people who were free and didn't care. It was really cool."
The star also revealed she's been reading hugely popular 'mummy porn' novel Fifty Shades of Grey, which features graphic descriptions of S&M and other sexual acts.
The singer explained: "Everyone's read that book. That's why I wanted to read it, because all my friends were talking about it and I wanted to know what all the fuss was about." Sure Leona, we believe you!
But while she opened up a little more about what makes her tick, Leona refused to be drawn on those recent rumours that she's dating hunky One Direction star Liam Payne, following his split from dancer Danielle Peazer.
"Erm…Do you know what? I never really talk about these things," she told the magazine. "I've never really spoken about my relationship, I don't really feel comfortable talking about it. But he is a really sweet, lovely guy and we've been friends for 18 months. And I'm a big fan of One Direction."
Related articles
People who read this story also read