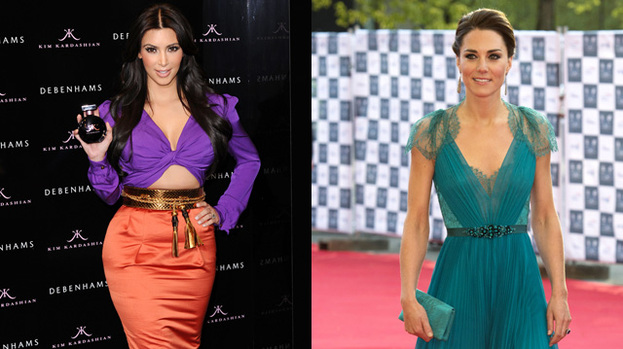 Kate Middleton has won over yet another fan it seems, with Kanye West reportedly deciding he'd like his latest squeeze Kim Kardashian to look a little more like the Duchess.
The Through the Wire rapper is said to be a huge fan of Kate's demure look, and would like Kim – famous for her curvaceous figure, skimpy outfits and reality TV series – to tone down her appearance to mirror the Duchess's style, which includes classic, well-tailored outfits and simple accessories.
"Kanye has been urging Kim to tone down her make-up and style her hair in a more conservative style, like Kate," a source told the Daily Star.
"And it's not just Kate's regal look that Kanye wants Kim to mimic. He's also told her that she could learn a thing or two about poise and sophistication from Kate."
A recent episode of Keeping Up with the Kardashians saw Kanye raking giving Kim's wardrobe a makeover, with fans of the show watching as he pulled out all the old items he didn't like.
The rapper then took the brunette beauty on a massive shopping spree, snapping up the kind of outfits he felt appropriate, before telling Kim: "[You're] getting on best dressed lists now.
"You're stepping into this territory. You look amazing - it's a new Kim!"
We're sure that didn't offend her one tiny bit, Kanye…
If the rumours that Kanye wants Kim to look like Kate are in fact true, he'd be far from the first celebrity to have his head turned by the Duchess.
Angelina Jolie and Brad Pitt are also said to be massive fans of Kate's, and are even said to have taken inspiration from the Royal wedding last year for their own upcoming nuptials.
Yummy mummy-of-six Ange is believed to be fascinated by the Duchess and would love to include elements from Kate and William's big day during her own marriage to movie star Brad.
"She would never make her own wedding public and wants a private event on a much smaller scale. But she loved the Britishness of Kate and William's big day and wants to incorporate some of those very traditional elements into her own ceremony," a source told Star magazine.
Related articles
People who read this story also read