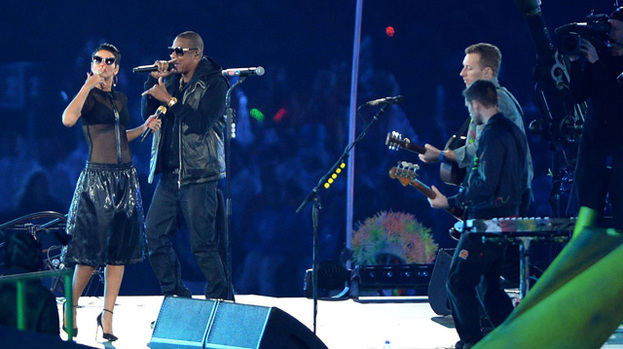 Coldplay entertained 80,000 audience members at last night's stunning Paralympics Closing Ceremony in London, following 11 days of sporting achievements.
The band were joined by R&B star Rihanna and rapper Jay-Z with the music stars performing a 16-song set, including some of their biggest hits such as Clocks, Princess of China, Run This Town and Paradise.
Bursting on stage at East London's Olympic Stadium, Rihanna's covered up appearance – a far cry from her usual raunchy outfits – proved to be a talking point, with viewers taking to Twitter to comment on her long-sleeved orange blouse and baggy trousers combo.
The Barbados-born star didn't cover up for too long though, also taking to the stage in a more risqué outfit of cropped black leather trousers, skyscraper heels and a see-through top.
Speaking before going on stage, Rihanna explained what it meant to her to perform at such an important occasion, saying: "Being at the Paralympics is the biggest honour. These athletes are gladiators and are a true inspiration to me."
She also wrote on Twitter: "What a blessed evening!!!! #Coldplay #HOV #paralmpicsclosingceremony."
The theme for last night's ceremony was Festival of Flame, with fire-eaters and flame throwers delighting the massive crowd.
Disabled and non-disabled dancers from Candoco Dance Company also lit up the stadium with flames as they surrounded Coldplay on stage.
And audience members watched with baited breath as Royal Engineers Captain Luke Sinnott, who lost his legs and right arm to a Taliban bomb, climbed the flagpole to fix the Union Jack flag on top.
Related articles
People who read this story also read