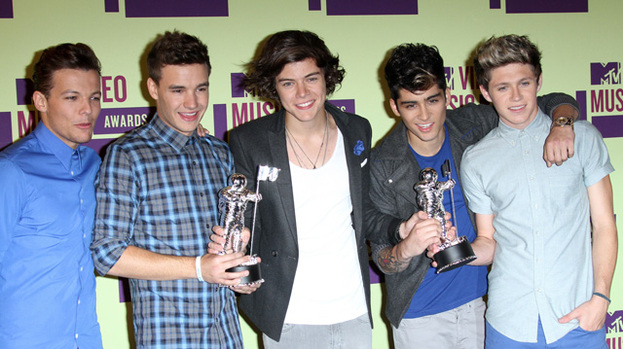 The boy band amazing took home three prizes at last night's massive ceremony in LA which was screened worldwide, only half a year after they first broke the US – shunting other big stars out of the limelight.
The former The X Factor contestants beat Justin Bieber and Rihanna for best pop video – and also edged out fellow all-boy British outfit The Wanted as best new artists.
Finally, they also claimed the most-shareworthy video award – which was voted on by fans – for debut hit What Makes You Beautiful
As the band collected the VMA trophy for best new artists, Harry Styles said: "To win one Moonman is amazing, to win two is incredible."
If only he knew what was to come!
Meanwhile, a delighted Niall Horan added: "Thank you so much! We have grown up watching this show and to collect one of these straight away is incredible."
To the delight of fans, they later performed latest single One Thing to hordes of screaming girls – for what was undoubtedly one of the highlights at the two-hour ceremony.
Rihanna, who went into the VMA's sharing a leading five nominations along with Drake, came away with just one award.
However, it was the most highly prized award of the night – video of the year – and the singer won it for her We Found Love, on which she collaborated with Scot Calvin Harris.
In more great news for our country, Calvin was the winner of the VMA's first award in the electronic dance music category for Feel So Close.
More About One Direction
People who read this story also read