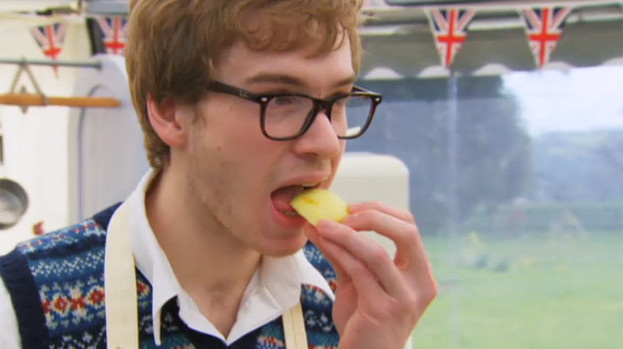 The Great British Bake Off is the ultimate comfort TV, with delicious recipes, the perfect setting, a touch of humour courtesy of Mel and Sue and contestants you wished lived next door so you could pop round to sample their latest gastronomic delights.
Just when we thought it couldn't get any more perfect, along came the icing on this year's cake: Scottish hopeful James Morton.
As if you-shouldn't-fancy-him-but-you-do baker Paul Hollywood wasn't enough to spice up proceedings, 21-year-old James has caused quite a stir amongst viewers, with a whopping 4.5 million tuning into the show this week.
Tarts (the ones you bake) are his pièce de résistance so far, after being named star baker on this week's show.
James, from Hillswick in the Shetland Islands, has it all – he can cook, he's hot and yes ladies, he even has brains, as Mr Morton is currently hitting the books at Glasgow University, where he's studying medicine.
But geek chic James is struggling to come to terms with his new found status as the thinking woman's crumpet.
In reference to an article entitled: "British Bake Off's viewers keep on rising... thanks to the hunk in a tank top," in the Daily Mail this morning, he Tweeted: "I hear there's an article about me in a newspaper today. Touched, but it's amazing what can be done in the editing suite... #gbbo" Modest too? What a guy.
He's also winning fans in the fashion world with the Times Style magazine Tweeting: "Well done James. We think your tarts look like fashion on a plate! (and we love your tank top and glasses too!)"
Let's hope James continues to bake his way to success as he certainly has us hungry for more on a Tuesday night.
Related articles