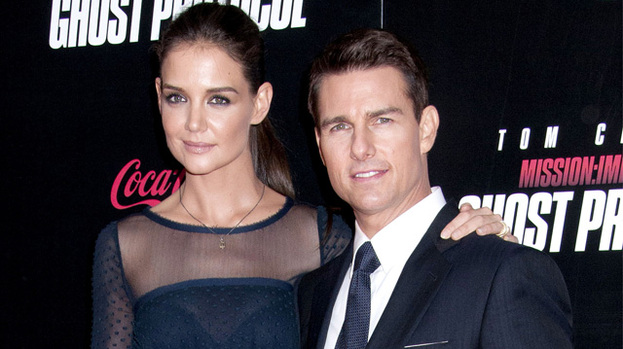 Katie Holmes and Tom Cruise's five-year marriage has been officially ended, just one-and-a-half months after their split was announced.
The showbiz world was left in shock after The Kennedys star Katie filed for divorce, citing irreconcilable differences as the reason.
The pair had once been deemed the cream of the Hollywood couples and even earned the 'supercouple' nickname TomKat, as they worked red carpet premieres and parties together.
But all of that is now nothing more than a distant memory.
Court records obtained by E! News confirmed that the couple's once glittering marriage is now officially over.
It was obvious that Katie and Tom, who married in 2006 in a romantic ceremony in Italy, were never going to mess about with the divorce.
Less than two weeks after it emerged Tom and Katie had split, the couple reached a divorce settlement with the help of their lawyers.
Although legal teams kept schtum on the exact details of the agreement, it is believed that Katie was granted primary custody of their six-year-old daughter Suri, with frequent visits scheduled for Tom.
The Top Gun actor meanwhile is thought to have clung on to the majority of his £230 million fortune, with Katie thought to be awarded around £10 million in accordance with a pre-nuptial agreement she signed before marrying.
Whatever the exact terms of the divorce, it seems both Katie and Tom are keen to just move on with their lives and put the past behind them.
A source said to be close to Tom told E! News: "Tom is very happy and relieved that he is moving forward," says the source, who's familiar with the terms of the deal. "His priority is being a good father and this settlement will make sure that continues."
Katie meanwhile has made a determined effort to continue with her normal day-to-day life since the split and has been snapped carrying out work engagements, enjoying nights out and spending lots of fun days in New York with little Suri.
Related articles