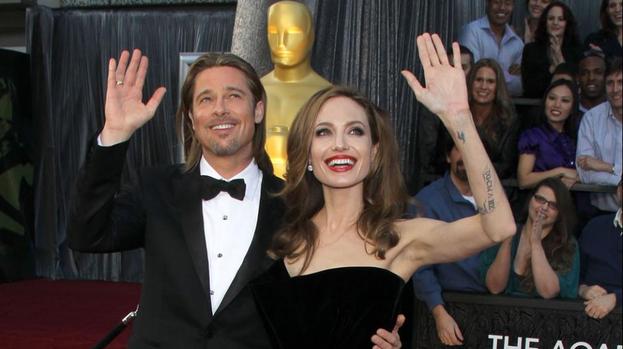 Angelina Jolie is reportedly planning to invite her ex-husbands Billy Bob Thornton and Jonny Lee Miller to her upcoming wedding.
The 37-year-old Girl, Interrupted actress is believed to be getting ready to wed her long-term partner Brad Pitt in the coming weeks, at their luxurious south of France chateau.
And when Brad and Ange do eventually exchange their vows, they will reportedly do so in front of a small group of family and friends – including Angelina's two ex-husbands.
A source told Grazia magazine: "Angelina has remained close to both Jonny and Billy so they'd certainly be invited.
"Brad has been doing most of the wedding planning and has been having a nightmare with refurbishments at the chateau. Angelina has left it pretty much up to him and the kids, who are really excited."
There has been no mention of whether Brad's ex-wife, the newly-engaged Jennifer Aniston, will be invited – but we're guessing probably not, considering the persistent rumours that Brad and Ange hooked up while he was still married to the Friends beauty…
So far few concrete details of Brangelina's wedding have emerged, but the couple are said to be planning to have around just 20 guests at the intimate wedding, including their six adopted and biological children.
Brad and Ange are also rumoured to be planning a regal theme for their wedding, after being inspired by Royal couple Kate Middleton and Prince William's stunning wedding in 2011.
A source told Star magazine earlier this year: "Angie is fascinated by Kate, and like the rest of the world she fell in love with her and William when she watched their wedding on TV with Brad and the kids.
"She would never make her own wedding public and wants a private event on a much smaller scale. But she loved the British-ness of Kate and William's big day and wants to incorporate some of those very traditional elements into her own ceremony."
Brad and Angelina announced their engagement in April, after the actress with spotted wearing a massive diamond ring on her wedding finger.
Burn After Reading actor Brad put a great deal of thought into creating the perfect ring for his partner of seven years, and along with the expert advice from jeweller Procop, designed a striking sparkler which Ange could wear with pride.
Related articles