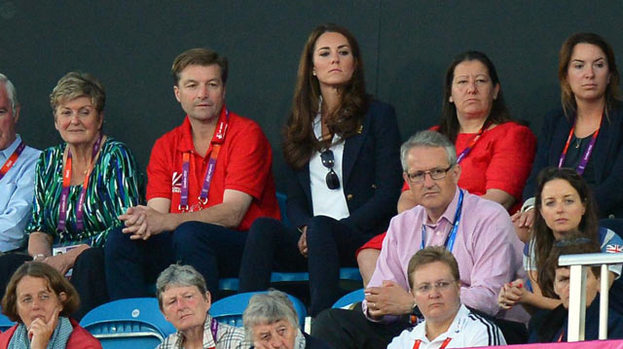 Kate Middleton joined the thousands of fans cheering on Team GB in the women's hockey semi-final at the Olympics last night, but her golden touch failed to rub off on the talented team and they lost 2-1 to Argentina.

It was a nail-biting match and Kate could be seen holding her head in her hands and shouting as the players came close to glory, but sadly it wasn't to be.

Far from just sitting back and watching the match unfold, the Duchess of Cambridge, once a keen hockey player herself, seemed to be enthralled in the action from start to finish.

As the ladies left the field, heartbroken, with many in tears, she could be seen applauding their efforts and waving to show her support – managing to gain a smile from some of the disheartened players.

Kate became involved with the hockey team earlier this year, when she visited them in training, much to their delight.

And the sporty Duchess was more than happy to swap her high heels for trainers and get stuck into a match, showing off the skills she had mastered when she captained the hockey team at Marlborough College

At the time, she told the women's team: "I really hope to be here, I would love to see you play in the Games.

"Now I have seen the set-up and got to see behind the scenes it would be really exciting to come back and see everyone in action. Good luck with everything."

The performance director of the male and female hockey squads – which are ranked fourth in the world – told the Daily Mail that Kate's visit had been "a real boost to morale and has caused a real buzz within the squad."

The hockey team are still in with a chance of winning a bronze medal and Kate is sure to be keeping everything crossed that the girls make it to the podium.

Last night, the Duchess once again impressed in the style stakes in her official Team GB attire.

She swapped the more casual tracksuit top she has been seen sporting in her role as an Official Olympic Ambassador, for a one-button Smythe navy blazer with matching skinny jeans and her trusty white sports polo shirt underneath.
TEAM KATE
People who read this story also read