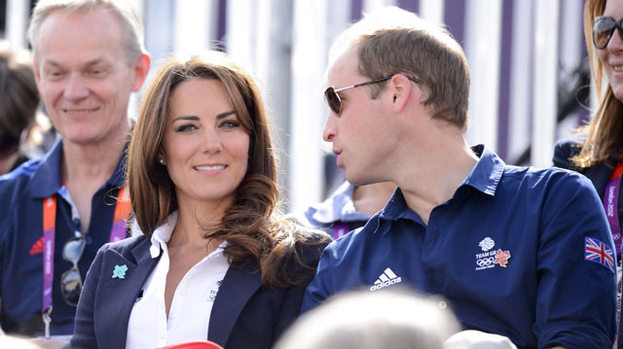 Today is an extra special day for Olympic Ambassadors the Duke and Duchess of Cambridge and Prince Harry as not only do they get to support Team GB, they also get to cheer on a family member; Zara Phillips.

Kate, Wills and Harry, along with Camilla Parker Bowles, Princesses Beatrice and Eugenie and Zara's mother, Princess Anne, have been spotted in the crowds, lapping up the electric atmosphere at the Olympics equestrian event in Greenwich.

Kate, or Duchess Catherine as she is officially known, was relishing her moment sitting in the stands, sharing a joke with Wills.

She is extremely proud to be attending the event in not only her official role, but as a supportive family member for her beloved cousin-in-law Zara.

The girls are extremely close and Kate is keen to support the talented sportswoman in her bid for Olympic glory.

The Duchess once again looked delightful as she wore an official Team GB shirt and fitted blue blazer.

Kate, Wills and Harry will attend numerous events throughout the Games, including the tennis at Wimbledon, athletics events, including the 100m final, and beach volleyball, which is sure to delight Prince Harry.

Last night, Prince William joined good friend David Beckham and his son Brooklyn, as they watched the Team GB football side beat the United Arab Emirates at London's Wembley Stadium.

This evening, it's Kate's turn to fly solo as she will attend a lavish party to promote and celebrate our nation's culture, creativity, art and entertainment industries at the Royal Academy of Arts in London.

It's set to be an extremely busy couple of weeks for the Royals but sporty Kate, William and Harry are in their element representing the country and championing events they truly love.

A royal aide told the Telegraph: "The Duke and Duchess of Cambridge and Prince Harry have been tremendously excited about the Olympics for a long time and want to throw themselves in to the Games and help out as much as they can."

"They will be out and about for much of the two weeks, but as well as watching the sports and meeting many of the athletes and visiting dignitaries, they hope to meet a whole cross-section of people, from volunteers to cooks in the Olympic village, who will make the Games a success."
TROT ON!
People who read this story also read