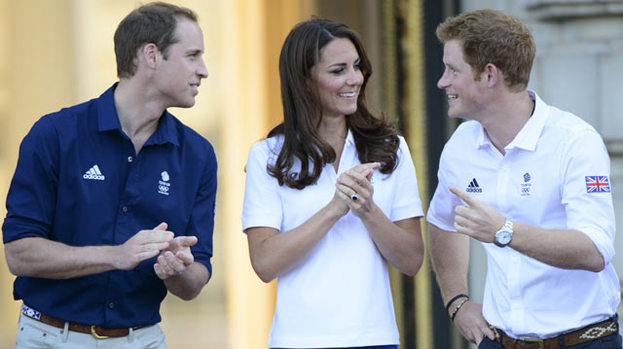 The Duke and Duchess of Cambridge and Prince Harry got into the Olympic spirit yesterday as they watched the Olympic torch relay pass Buckingham Palace.

As official Olympic Ambassadors, they wore Team GB Adidas polo shirts and style Queen Kate managed to make the sporty look chic, as she teamed her fitted white top with a pair of skinny blue jeans.

Kate, Wills and Harry appeared to be having a ball as they laughed, joked and waved with excitement, witnessing the momentous occasion take place.

The torch passed Buckingham Palace just after 6.30pm and the royals had each nominated someone from one of their charities to carry the iconic flame.

William, as Patron of Mountain Rescue England and Wales, chose mountain rescuer John Hulse from Ogwen Valley.

Harry selected Wai-Ming Lee from charity MapAction and Kate chose Scout volunteer Jon Sayer from Todmorden.

Jon was delighted to get the chance to not only carry the torch, but thank the Duchess in person for her nomination.

The dedicated Scout volunteer, who saved a man's life whilst he was a volunteer lifeguard, told the Mirror: "It was an unbelievable honour - a day I won't forget for a long time.

"I got to meet Kate afterwards and we spoke at great length about what we do with our Scouts.

"She does exactly the same activities on a weekly basis as we do. She said she was loving it.

"We spoke about the flame and I said 'thank you for nominating me' and she said 'I didn't put you here, you put yourself here'."

Earlier in the day, Kate, Wills and Harry turned sports stars as they visited a school in south-east London to launch a new sports coaching project, which is supported by their charitable foundation.

The sporty trio delighted the children as they tried their hands at various sports, with Kate particularly shining at table tennis.

The Duke and Duchess of Cambridge and Harry are expected to watch the spectacular Olympic opening ceremony this evening. Throughout the next few weeks, they will then attend numerous events, as well as meeting the athletes, visiting dignitaries and a whole cross-section of people, from volunteers to cooks in the Olympic village.
TEAM GB
People who read this story also read