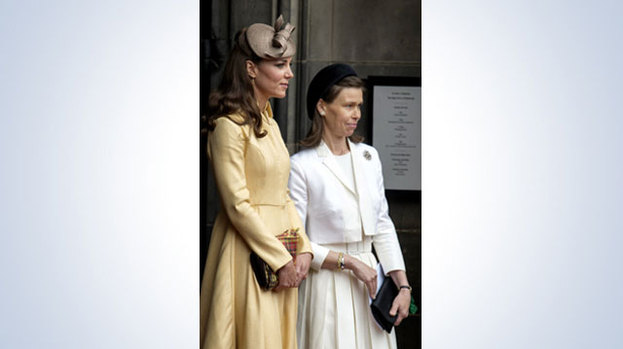 The Duchess of Cambridge brought a ray of sunshine to Edinburgh this afternoon as she stepped out in a beautiful pale yellow coat.

Kate, or Catherine as she is officially known, was in Scotland as part of the Queen's Diamond Jubilee celebrations and today she looked on with pride as her husband, Prince William, was installed as a Knight of the Thistle, at an extra special ceremony at St Giles Cathedral.

Thousands of onlookers crowded the Royal Mile in a bid to catch a glimpse of the Royal Family, in particular Kate, and the ever-stylish Duchess didn't disappoint.

She teamed her elegant £1200 Emilia Wickstead coat with a mushroom-coloured Whiteley hat and black heels (where were the nude L.K. Bennetts?).

A delicate pair of gold and citrine drop earrings by jeweller Kiki McDonough perfectly complemented the look.

But it was Kate's nod to her Scottish title, the Countess of Strathearn, which truly captured the hearts of her Scottish fans.

She carried a striking Strathearn scarf as she headed into the ceremony, alongside Lady Sarah Chatto.

It's not the first time she has been seen sporting the yellow and red tartan, as she teamed the same scarf with the scarlet Alexander McQueen gown she wore during the Thames Jubilee Pageant last month.

William, The Queen, Prince Phillip and Princess Anne's outfits were altogether more elaborate as they were dressed in traditional bottle green velvet cloaks and feathered hats.

Being installed as a Knight of the Thistle is a true honour for William as Scotland holds a dear place in his heart – it is of course where he met Kate, when they were both students at St Andrews University.

Since then, the couple have made many trips back north of the border, with some reports suggesting they are keen to settle in Scotland next year.
ROYAL RUMBLES
People who read this story also read