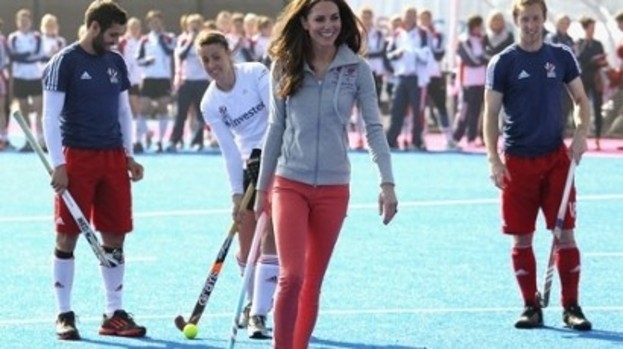 The Duke and Duchess of Cambridge and Prince Harry are going to be extremely busy in the coming weeks as they throw themselves into their roles as Olympic Ambassadors.

Not that they will mind: the sport loving royals can't wait to get involved in London 2012, as they are truly passionate about the Games.

According to The Mirror, Kate, Wills and Harry will visit the Team GB House on the ninth floor of Westfield Stratford, where they will meet the athletes and show their support for the sportsmen and women representing the UK.

They will also attend as many events as possible, with Kate keen to support the Team GB hockey stars, after she played with them earlier this year.

And despite good friend David Beckham being left out the squad, William wants to ensure he catches as many of the football matches as possible.

After cheering on Andy Murray at Wimbledon yesterday, it will come as no surprise that the Duke and Duchess of Cambridge are also looking forward to attending the tennis.

A source told the paper: "This is about William, Kate and Harry doing what they do best and going in at the grass roots level and meeting with as many people as possible.

"They won't just be doing ceremonial stuff during the Games, they will be really getting stuck in at all levels.

"They are very excited and very committed to their role as ambassadors, and the Olympics will be their focus for the whole time the Games are on."

The royals will also meet the Commonwealth athletes, with Prince Harry looking forward to catching up with Usain Bolt, after he beat the world's fastest man in a race in Kingston in March, during his Diamond Jubilee tour. The cheeky Prince did of course have a head start!

"Prince Harry would very much like to see Usain Bolt again and it will hopefully be possible depending on the athlete's schedule," the source claimed.
ON YOUR MARKS...
People who read this story also read