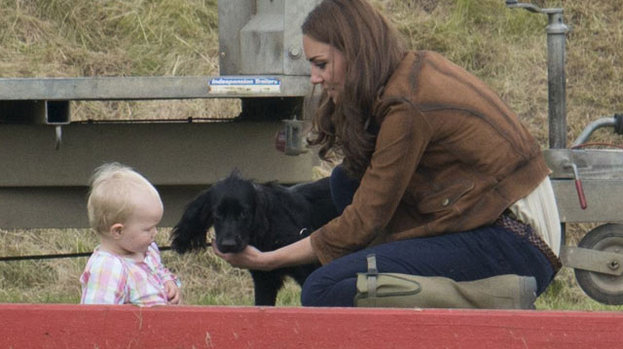 The Duchess of Cambridge and Zara Phillips attended a charity polo match in Gloucestershire at the weekend, but they had no interest in watching Princes William and Harry play – they were far too distracted by Zara's beautiful niece, Savannah.

The 18-month-old had her royal 'aunties' eating out the palm of her hand as she ran around the field with them following behind.

While Zara cuddled the gorgeous blonde bundle at the Beaufort Polo Club, Kate introduced Savannah to her own baby – Cocker Spaniel pup Lupo.

The glamorous royals also went gaga over Savannah's baby sister, Isla, who was being carried by her glamorous mum, Autumn.

Both Zara and Kate have made no secret of the fact they would love children of their own, and all eyes are on the girls to see when we can expect the patter of tiny royal feet.

Zara's husband Mike Tindall told The Mirror: "Obviously we're going to have a family. But it's about timing. It's the Olympics this year, the Europeans next year, the World Championships the year after for her.

"I want to play for another two years, so it's just where we find the balance in that. I wouldn't say we'll wait, we'll try and find a window.

"There is definitely a family in the future but it's hard at the moment with work, as it is for a lot of people out there."

The Duke of Cambridge also recently spoke about his desire for children, telling US journalist Katie Couric that starting a family with his stunning wife of just over a year, Catherine, is top of his list of priorities.

The prince, who will turn 30 on June 21, said that he loves his job as a search and rescue pilot with the RAF, but admitted "the pressures of my other life are building", before adding: "More importantly, I'd like to have children."

Wills continued: "I'm just very keen to have a family and both Catherine and I are looking forward to having a family in the future."

Both Kate and Zara clearly have the magic touch when it comes to children and we're sure they will be delightful yummy mummies.
BABY LOVE