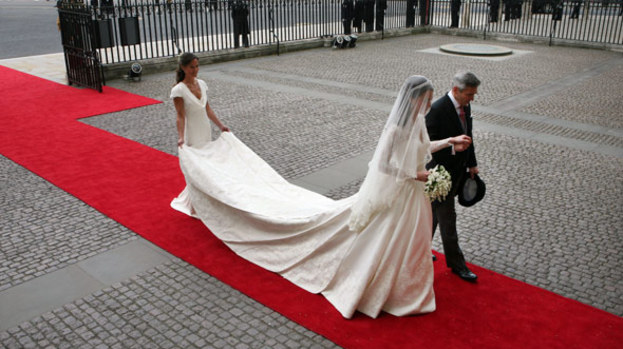 At last, the moment the world has been waiting for is here: Kate Middleton has arrived at Westminster Abbey and her wedding to Prince William is underway.

The bride looks simply stunning in a long sleeved, lace, vintage-inspired dress, complete with long flowing train and dazzling tiara.

As suggested earlier today, the woman behind the design is Sarah Burton of Alexander McQueen.

The Official Royal Wedding site reports that Miss Middleton chose British brand Alexander McQueen for the "beauty of its craftsmanship and its respect for traditional workmanship and the technical construction of clothing."

The lace appliqué for the bodice and skirt was hand-made by the Royal School of Needlework, based at Hampton Court Palace. Individual flowers have been hand-cut from lace and hand-engineered onto ivory silk tulle to create a unique and organic design, which incorporates the rose, thistle, daffodil and shamrock.

Hand-cut English lace and French Chantilly lace has been used throughout the bodice and skirt, and has been used for the underskirt trim.

The dress is made with ivory and white satin gazar. The spectacular train measures two metres 70 centimetres. The ivory satin bodice, which is narrowed at the waist and padded at the hips, draws on the Victorian tradition of corsetry and is a hallmark of Alexander McQueen's designs.

Her shoes are also McQueen.

The dress has a vintage feel and the design is set to be emulated by future brides for years to come.

Kate's gorgeous flowing locks are curled and pinned back in a half-up half down style, underneath her long veil, which is held in place with a Cartier tiara.

Her dress was kept a closely guarded secret as Kate "wanted to surprise Prince William."

As he laid eyes on his gorgeous wife-to-be in the Abbey, the smile across his face said it was well worth the wait.
WEDDING BELLE