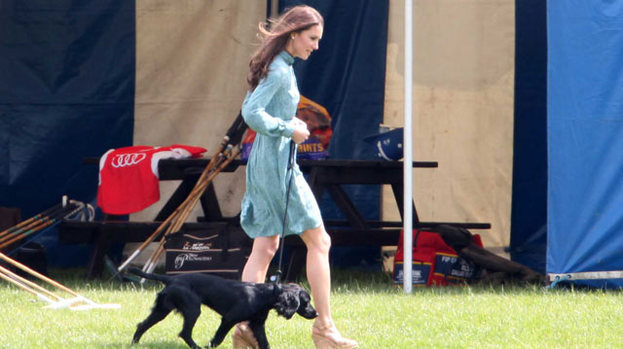 The world is a strange place and if you needed any more proof then here it is: Kate Middleton's dog Lupo has been named the 50th most fascinating individual in the world.
That's right, the Duchess of Cambridge's cute black cocker spaniel, gifted to the royal by her husband Prince William, is now so important in the world that he's come ahead of actual two legged people, in Tatler magazine's poll.
The list, complied by the renowned society mag, reported the findings based on the most searched individuals on its online 'Tatler List' of notable figures.
Luckily, the duchess herself managed to beat her cute pooch, coming in at seventh place, while her husband Prince William lagged slightly further behind in 16th place.
Neither was as popular as the Queen though, with the monarch placed in fourth position.
Sports presenter Clare Balding, who was recently announced as the new host of Channel 4 Racing, scooped the top spot.
The radio and TV broadcaster and print journalist marked a stellar year in 2012, fronting coverage of events including the Queen's Diamond Jubilee and the Olympic Games, and she co-presented BBC Sports Personality of the Year.
Others to make the list included actor Benedict Cumberbatch in fifth spot, Harry Potter star Emma Watson, who came in 28th.
Royal princesses Eugenie and Beatrice also made the list in ninth and 15th places respectively, while Prince Philip came in 36th.
What do you think of the fact that Kate's dog Lupo made the same list as the royals and stars such as Benedict Cumberbatch? Tell us using the comments facility below.
Related articles