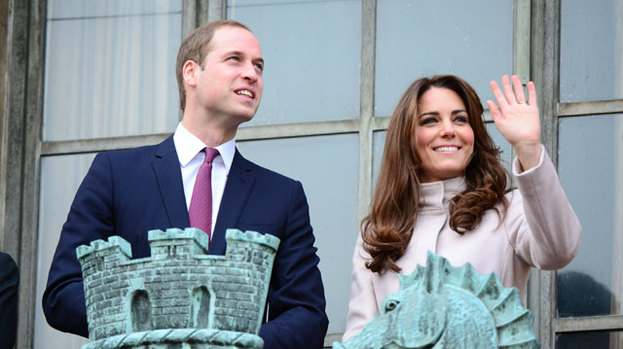 Kate Middleton and Prince William were treated like movie stars today as the royals arrived in Cambridge for an official visit to the city they take their titles from.
The Duke and Duchess of Cambridge smiled and waved as they were met by hundreds of well-wishers who has lined the streets to welcome the couple.
This is the first time the royal pair have visited the city since their marriage, and the first time Kate has ever been there - and the locals clearly felt that their trip didn't come a moment too soon.
Arriving by train, the duke and duchess were then driven through Cambridge slowly so they could wave to their fans.
Dressed in a pale pink MaxMara dress and coat, and showing off her new hairstyle – a heavier 70s style fringe and slightly shorter layers – Duchess Kate was glowing as she arrived in the city.
Husband Prince William also looked handsome dressed in a dark suit, as he stood alongside his wife.
One admirer, Samantha Hill, made the royal couple blush when she presented William with a tiny baby's romper suit with the words 'Daddy's little co-pilot' emblazoned over the front.
"I made it for when his little one comes along, he's a helicopter pilot so his baby will think his daddy is cool," she explained.
The public continue to excitedly await news of a royal pregnancy following William and Kate's marriage last year, but it looks like the duke and duchess are going to keep us waiting a little longer yet!
Making a speech at Cambridge University Senate House, William said he and Kate were excited to visit the city, ever since taking their titles on their wedding day in April last year.
"We both feel immense pride at being associated with Cambridge, a place renowned the world over for its dynamism, beauty and learning, and it is lovely for us to be here together today," the prince said.
He continued: "Within a mile of us, gravity and DNA were discovered. Many of the brilliant minds who, through their later work at Bletchley Park, did so much to save our country and the free world, were given first flowering to their genius here at Cambridge.
"This university has more Nobel Prize winners to its name than all but a couple of countries."
The prince then jokingly added: "My brother Harry and I were fortunate enough to come to Cambridge five years ago, when we spent a couple of days at Trinity. I have to say, it's the closest Harry's ever got to university."
As well as visiting the renowned Cambridge University, Kate and William will also stop by some of the city's schools and charities today.
More About Royal Family
Related articles
People who read this story also read