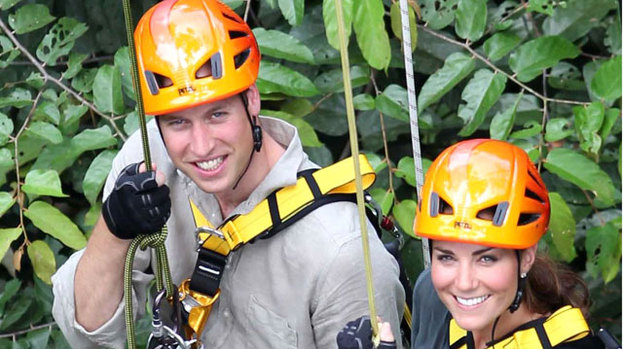 Photographs taken by Kate Middleton of her and husband Prince William 's trip to Borneo earlier this year are expected to be published for the public to see this week.
Kate – now better known by her official title the Duchess of Cambridge – has been a keen photographer for some time now, one of her hobbies listed on the official British monarchy website, alongside other interests such as painting, tennis and sailing.
And now the public will finally get a chance to see her handiwork, with photos of the couple's visit to the stunning area, on behalf of the Queen's Diamond Jubilee, available for all to see.
The Daily Mail reports that Kate's snaps will be put up on the duchess' official website this week, www.dukeandduchessofcambridge.org, taken on her own camera during a visit to the Danum Valley Research Station.
While in the Malaysian island of Borneo, the royal couple trekked through Sabah, which is home to some of the rarest and most exotic animals in the world including the endangered Bornean orang-utan, Sumatran rhinoceros and Asian elephant.
They also got the chance to view some 15,000 species of stunning flowering plants and 420 species of birds, as well as other wildlife in the area.
While at the research centre, Kate and Wills were raised more than 40 metres above the rainforest canopy to see the ecosystem – so we're sure Duchess Kate's photos, capturing some of area's most breathtaking sights, will be inspiring.
More to the point, they'll be much more personal than the official snaps taken by press photographers who were invited on the trip – and will give an insight into the area's beauty through the eyes of the royals.
While on their Diamond Jubilee visit, which took place in September this year, the couple also stopped by Kuala Lumpur in Malaysia as well as Singapore, the Solomon Islands and Tuvalu.
In the last few months we've found out Duchess Kate's other hobbies include cooking – particularly making Prince William's favourite roast chicken dinner – as well as needlework and embroidery, a skill she was keen to learn after seeing the work that went into her stunning lace wedding dress.
We can't wait to see some of her creations!
More About Royal Family
Related articles
People who read this story also read