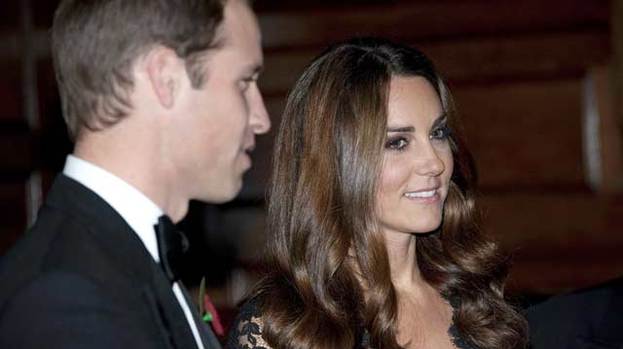 The Duke and Duchess of Cambridge famously fell in love when they were both students at St Andrews University.
Now happily married, the royal couple enjoyed a special evening, reminiscing about their happy times spent north of the border, when they attended a fundraising dinner at Middle Temple Hall in London, held by the University, last week.
As Kate wowed in an Alice Temperley lace gown, (the one she wore to the War Horse premiere earlier this year), William delivered a passionate speech, highlighting the couple's love for Scotland, St Andrews and the university that brought them together.
He said: "Tonight is very special for Catherine and me. It brings together two institutions that are dear to us – our alma mater, St Andrews University, and Middle Temple, our hosts here tonight.
"First of all we have been privileged to receive the best university educations. Secondly, we all love St Andrews. We love it for the academic start in life it gave us. We love it for its traditions – traditions that lie at the very heart of Scotland's history.
"We love it because it made us look beyond St Andrews, beyond the borders of Scotland, to the wide world. But perhaps most important of all, we love it for the friendships is has given us.
"As I look around this hall tonight – and even take a peek at the person sitting three from my left [Catherine] – I thank God for those friendships, our friendship, forged in our ancient halls."
After Kate had watched her husband with pride, she too spoke of her love for Scotland and her one regret from her time in St Andrews.
The sporty Duchess admitted she had failed to learn how to play golf when staying in St Andrews, the home of the sport.
Perhaps the royal couple can pick up their clubs and tee off the next time they return to Scotland, a place they try to visit whenever they get the chance.
Last year, there were suggestions that the Duke and Duchess of Cambridge were hoping to spend New Year at Balmoral, but they instead partied at a lavish bash, organised by Kate's younger sister Pippa.
What better way to see in 2013 than to celebrate Hogmanay in style with a wee dram in Scotland… Sláinte Kate and Wills.
Related articles
People who read this story also read