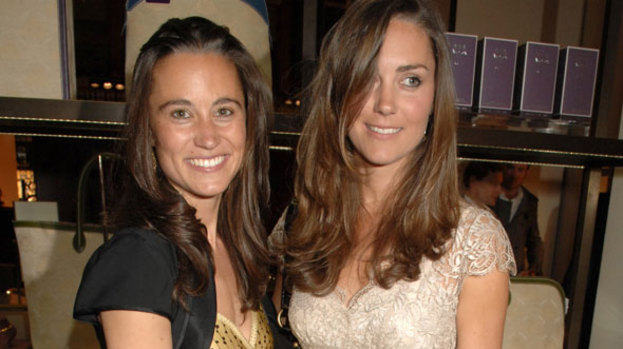 Kate Middleton aka the Duchess of Cambridge had a rare night out on the town with her little sister Pippa - and her cute pooch Lupo last night (November 7).
Wrapping up against the increasingly chilly weather, the duchess looked cosy dressed down in jeans, knee-high boots and a furry jacket, to attend a charity fundraiser at the Burlington Arcade in central London.
Pippa meanwhile also opted for jeans, which she accompanied with a blue leather jacket and an eye-catching spotty blue scarf for the outing.
And Kate and husband Prince William's cute pooch Lupo, an adorable black cocker spaniel, accompanied the Middleton sisters. The duke and duchess got the puppy last year and are said to have fallen in love with him immediately, having great fun taking the playful pup for long walks near their home in Anglesey.
The sisters were among those helping to raise funds for the East Anglia charity Ormiston last night at the Burlington Bazaar, organised by Lady Tollemache, according to the Daily Mail.
Ormiston works with children and youngsters in the east of England, proving help and support to those from disadvantaged communities who face the dangers of social exclusion.
It's just the latest charity the duchess has thrown her support behind, with the royal acting as patron of several worthy organisations which provide support to youngsters.
It was a rare outing for the extremely close Middleton sisters, who have hardly been spotted in public together in recent months.
As a member of the Royal Family, duchess Kate now has a packed schedule of official engagements and visits to maintain.
And Pippa has also been incredibly busy, launching her first book Celebrate: A Year of Festivities for Families and Friends which sees the 29-year-old share her party planning experience with tips on how to make key events go with a bang.
She has also been spotted on a number of dates with James Matthews, brother of Made In Chelsea star Spencer Matthews, as well Tom Kingston, the former boyfriend of one of Prince William's ex girlfriends. Busy girl!
While last night was a low-key affair, tonight Duchess Kate will be getting her glad rags on to attend a dinner in London with Prince William celebrating the 600th anniversary of St Andrews University – where the couple met and fell in love.
More About Royal Family
Related articles
People who read this story also read