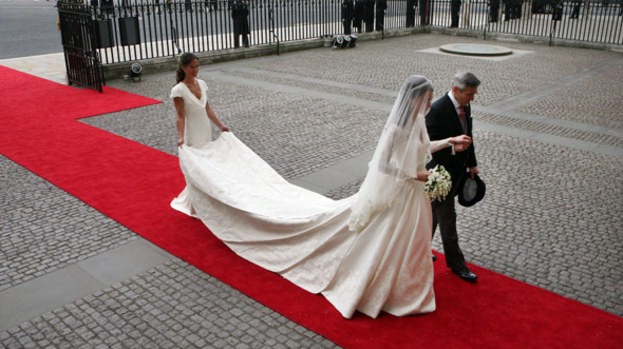 Kate Middleton's a dab hand in the kitchen and now it seems the Duchess is also rather nifty with a needle and thread, after revealing a passion for embroidery.
The 30-year-old duchess first displayed her interest in the intricate skill when she visited the team working on her stunning lace Sarah Burton for Alexander McQueen wedding dress, which she wore to marry Prince William last April.
The students at the Royal School of Needlework had worked tirelessly on the gown - a beautiful long-sleeved ivory and white satin gazar dress, embellished with hand-cut lace and ivory silk tulle flowers representing the rose, thistle, daffodil and shamrock, for the four corners of the UK.
And Kate really showed her appreciation for putting so much effort into the bridal outfit.
Sophie Long, one of the embroiderers from the school who worked on the duchess's gown, told Marie Clarie magazine: "Kate showed a real interest in embroidery, which made it extra special."
She added: 'At the time we didn't know which designer we were working for,' Sophie told us. 'We worked on the lace panels in great secrecy.
"It wasn't until the day of the wedding, that we learnt it was a Sarah Burton creation."
Kate is often dubbed the 'thrifty duchess' for her knack at recycling outfits and we're sure her love of needlework and embroidery will come in handy if she decides to update any of her existing clothes or accessories.
Duchess Kate's needlework interest is just her latest hobby to come to light in recent days.
During a visit to Newcastle earlier this month, Kate let slip that she is a keen gardener and grows her own potatoes – which she no doubt serves with Prince William's favourite dinner, roast chicken and all the trimmings.
Kate's also said to be a keen cook and baker, and reportedly makes up jams and preserves which she hands out to friends and family.
Sounds like she's got plenty to keep her occupied during her days off from royal duties!
More About Royal Family
Related articles
People who read this story also read