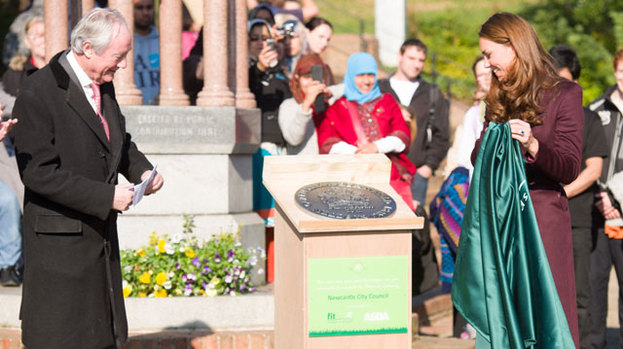 Kate Middleton went down a hit with the Newcastle locals today as the Duchess of Cambridge paid a visit to the region, during a royal visit.
Hundreds of spectators lined the streets outside Newcastle Civic Centre in the hope of glancing Kate, who was flying solo as her husband Prince William attended the funeral of his former nanny Olga Powell.
And if she was nervous to be carrying out the engagement alone, the 30-year-old certainly didn't show it.
Looking stunning in one of this season's hot colours, burgundy, Duchess Kate looked suitably autumnal as she made her way round the well-wishers, dressed in a long coat, black suede boots and a red dress.
First on the list was a walkabout, giving Kate the chance to meet some of those who had turned out, waving Union Jack flags, to see her. One lucky schoolboy even got a hug off the royal after asking her for a cuddle.
And as she made her way round the crowds, Kate revealed that she was missing having her beloved husband by her side.
Margaret Southam from Gosforth, Newcastle, said: "I told her we wanted to see William and were sad he could not be here, and she said 'I'm missing him too'."
Once inside the civic centre, Kate spoke to representatives from community organisations working to help improve life the city.
While there Kate, a keen sportswoman, tried her hand at the Paralympic sport of boccia, which is similar to bowls.
Joining two disabled pupils from Percy Hedley School, which teaches children with cerebral palsy, the duchess gave the game her all but predicted she'd be no good, telling them: "The pressure's on" before adding that it would probably "go rolling off the carpet". It wasn't so though, and like most things she does, Kate excelled.
During her visit, Kate also paid a trip to a community garden project at Elswick Park, where she spoke to one of the gardeners and revealed she grows her own veg.
"She grows her own potatoes in sacks. We were digging the potatoes and she was asking about it. She said ours were bigger. She said she only got small ones this year," Mrs Hughes said.
Late in the day Kate continued her visit to the north east of England, stopping by the M-Pact project, a recovery centre for those with alcohol or drug issues, in Stockton, Teesside.
Duchess Kate, who is a patron of the Action on Addiction charity, met some of the families affected by drug and drink problems.
The solo visit comes at a time when Duchess Kate is becoming increasingly popular with the public, helping to give the Royal Family a fresh, more 'in touch' image.
More About Royal Family
Related articles