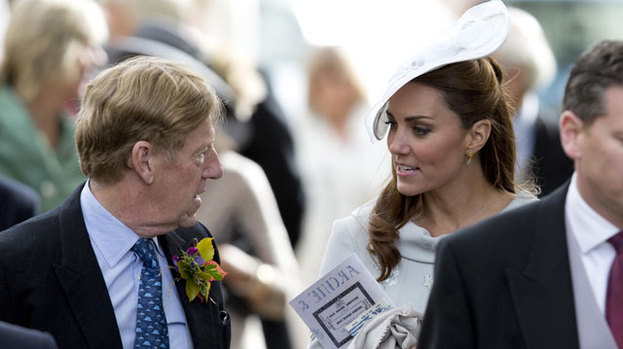 All eyes were on Kate Middleton at the weekend, as she stepped out publicly for the first time since the recent Royal South Seas tour, to attend the wedding of a close family friend.
The Duchess of Cambridge, her siblings James and Pippa, mother Carole and father Michael were all in attendance at the nuptials of pal Thierry Kelaart and her fiancé Patrick Heathcoat-Amory at St Bartholomew's Church, Nettlebed, Oxfordshire.
Kate, 30, looked beautiful and elegant dressed in a pale blue silk patterned Erdem Moralioglu dress and matching hat, finishing off the look with her trusty nude heels.
Little sister Pippa, 28, also looked striking in a cream dress and jacket, with a feathered fascinator finishing the outfit perfectly.
But it wasn't just the Middleton ladies who took centre stage at the society wedding, with father Michael walking bride Thierry - who lost her own father 20 years ago - down the aisle.
The Middletons looked delighted to play such an important role at the special day of Thierry and Patrick, and could be seen with big smiles across their faces throughout the wedding.
It's one of the first outings for Kate since she returned home last month from her tour of Singapore, Malaysia, the Solomon Islands and Tuvalu with Prince William, on behalf of the Queen's Diamond Jubilee.
While there the couple attended State receptions, visited charities, danced their troubles away with islanders, trekked through the jungle, and even enjoyed a very special tea party with competition winners.
But while Kate and Wills clearly enjoyed their high profile tour they also had to cope with the news that a French magazine had chosen to publish topless photographs of Kate, taken while she was sunbathing on a private holiday with Prince William.
The couple put on a brave face though and refused to be rattled, even when further media outlets also chose to publish the intimate snaps, and chose instead to seek legal action.
More About Royal Family
Related articles