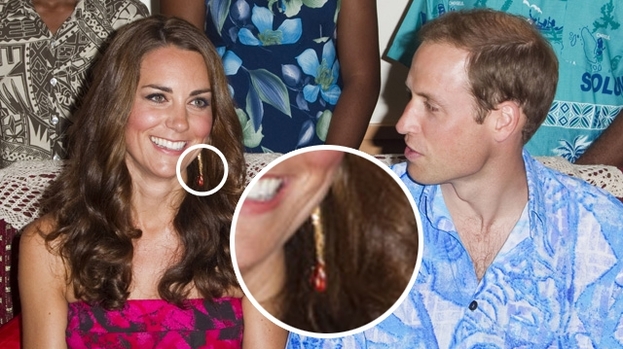 All eyes were on Kate Middleton's fashion choices as the Duchess of Cambridge recently embarked on a special tour on behalf of the Queen's Diamond Jubilee alongside Prince William.
The Duchess is a highly regarded fashion icon, and she made sure she was correctly attired at all occasions – whether attending State dinners or trekking through the jungle.
On the first day of the tour in Singapore, Kate delighted onlookers as she paid homage to the country by wearing a dress designed by Singapore-born designer Prabal Gurung.
Duchess Kate also thrilled locals in the Solomon Islands when she accepted and wore a floral tiara made out of exotic pink, white and green frangipani and bougainvillea blooms - as well as wearing floral patterned dress to a reception hosted by the Governor General at his residence which was gifted to her by the Island Print shop, shunning her previously selected outfit.
But what some may not have realised is that the Duchess was also making a statement with her carefully chosen accessories – most notably her jewellery - during the overseas tour.
As a member of the Royal Family, Kate could choose to wear expensive jewels passed through the generations every day if the notion took her. But for her Diamond Jubilee tour with William, she decided instead to select relatively inexpensive pieces created by home-grown British talent.
Throughout the tour round Singapore, Malaysia, the Solomon Islands and Tuvalu, Kate has perfectly matched her outfit choices perfectly with accessories and jewellery.
Among those careful selections were pieces from English designers Seretta and Catherine Zoraida, whose work features on the site FlashTrash.
Representatives for FlashTrash met with the Duchess's PA last month to present a 50-piece look book of jewellery items, specifically chosen to appeal to Kate's classic sense of style.
And Kate picked seven of the items out, with some of the pretty designer pieces being worn by the 30-year-old on the Diamond Jubilee tour.
It's a huge coup for the designers, as Amber Atherton, the founder and director of www.myflashtrash.com, told Retail Jeweller magazine.
She said: "As the Duchess can't except gifting it was nice for our independent designers to know that the pieces Kate Middleton has chosen were chosen by her, which is very inspirational for upcoming designers to know that the Duchess isn't just wearing high end brands."
Pieces worn by Kate include pretty coral-coloured drop earrings with a rolled gold chain tassel priced at £36 (pictured above).
Related articles
People who read this story also read