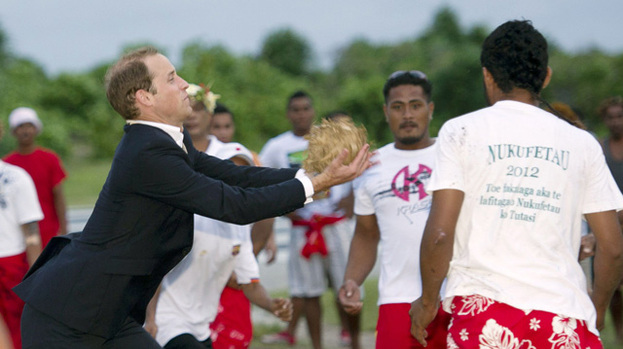 Prince William and Kate Middleton laughed and giggled as the Royals enjoyed a much needed day of light relief in Tuvalu, on the last day of their tour on behalf of the Queen's Diamond Jubilee yesterday.
Enjoying traditional island activities, the couple toured a primary school and a university campus, as well as viewing demonstrations of traditional crafts and cooking while visiting a mocked-up traditional Tuvaluan village.
The sporty Royals also got the chance to take part in a traditional game on the stunning Polynesian island, which is situated between Hawaii and Australia.
William jumped at the chance to show off his skills on the pitch as he joined the locals in Te Ano, a game which is similar to volleyball, in which large groups of men fight to keep a ball in the air.
In this case the game was played with a coconut – and poor Wills looked a little out of his league as he tried to get a grip of the furry fruit to keep it in the air.
It wasn't the first time the Prince showed off his lack of coordination – with Wills previously showcasing a spot of 'dad dancing' as he and Kate shimmied along to some local music during a celebration in front of islanders and chiefs.
Dressed in rather eye-catching grass skirts, William and Kate swayed along to the music with big smiles on their faces.
But while William's moves might have been a bit dodgy, Kate looked every inch the island Princess as she moved her hips and hands in time to the music. Is there anything this lady can't do?
Today the Duke and Duchess are travelling back home after their busy tour, which saw them travel through Singapore, Malaysia, the Solomon Islands and Tuvalu.
Earlier today the couple made a brief stop-over in Brisbane, Australia, as they made their way back home following their exotic trip.
Related articles
People who read this story also read