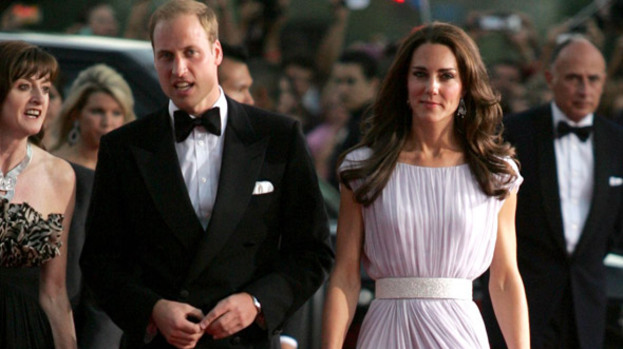 A spokesperson for St James's Palace has slammed the "grotesque and totally unjustifiable" actions of a French magazine which published photographs allegedly of the Duchess of Cambridge sunbathing topless.
News has circulated the globe today that the French glossy mag Closer had decided to publish the snaps thought to be of Kate, taken during a holiday she and William took in Provence earlier this month.
The website for the magazine teased the images yesterday online, showing a screenshot of the front page with a heavily pixilated photograph of a woman who resembled the Duchess, removing her bikini top as she lounged by the pool.
And today the magazine physically published the photos in the latest addition.
A St James's Palace spokesperson for the Duke and Duchess said the incident was reminiscent of the "worst excesses of the press and paparazzi during the life of Diana, Princess of Wales", who was tragically killed in a car crash in Paris in 1997, after being chased by photographers round the city.
The statement, which was issued today, read: "Their Royal Highnesses have been hugely saddened to learn that a French publication and a photographer have invaded their privacy in such a grotesque and totally unjustifiable manner.
"The incident is reminiscent of the worst excesses of the press and paparazzi during the life of Diana, Princess of Wales, and all the more upsetting to The Duke and Duchess for being so.
"Their Royal Highnesses had every expectation of privacy in the remote house. It is unthinkable that anyone should take such photographs, let alone publish them.
"Officials acting on behalf of Their Royal Highnesses are consulting with lawyers to consider what options may be available to The Duke and Duchess."
The spokesperson concluded: "The Duke and Duchess remain focused currently on their Tour of Singapore, Malaysia, Solomon Islands and Tuvalu on behalf of HM The Queen."
Meanwhile the UK version of Closer magazine has issued its own statement on its Facebook page, distancing itself from the French edition of the magazine.
The statement read: "Closer magazine UK is published by Bauer Consumer Media. The French edition meanwhile is published under a licence by a totally different company, an Italian business called Mondadori.
"Closer magazine UK would like to make it clear that the two publications make entirely independent editorial decisions. In this respect the comments made by the Editor of the French edition which have reported in the media today do not reflect the opinions of Closer magazine UK.
"Closer magazine UK was not offered any pictures of this nature and certainly has no intention of publishing the photographs of the Duchess of Cambridge which have been published in France this morning. Closer magazine UK takes its obligations under the PCC Code extremely seriously and would never publish topless images of a member of the Royal family on its cover or otherwise."
Related articles
People who read this story also read