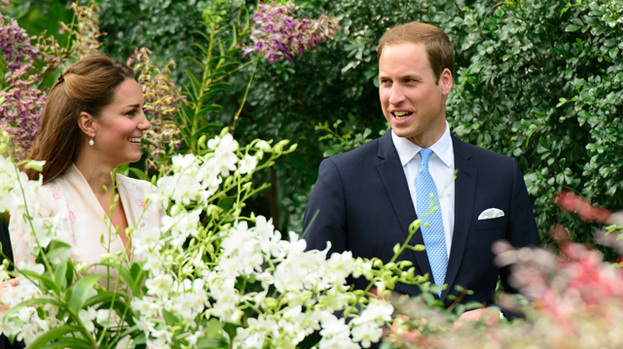 The Duke and Duchess of Cambridge touched down in Singapore this morning, as the Royal couple began their overseas tour on behalf of the Queen in her Diamond Jubilee year.
After touching down at Changi International Airport, where they were met by representatives of the Singaporean Government and the British High Commissioner, Kate and William got straight to work travelling to their first official engagement, a visit to the Singapore Botanic Gardens.
While there, the couple took a tour of the VIP Orchid Garden, where an orchid was named in their honour and they got the chance to view orchids named after other members of the monarchy including Queen Elizabeth, William's grandmother.
The couple also watched as an orchid was named after William's late mother Princess Diana, in a poignant memorial to the Princess who was killed in a car crash in Paris in 1997.
The orchid is the national flower of Singapore and the beautiful VIPOrchid Garden is reserved purely for visiting Heads of State and international dignitaries.
Kate looked stunning as ever during the trip, dressed demurely in a v-necked pink and cream kimono-style dress, which was a clear tribute to the East. It's not the first time the Duchess has paid tribute to the place she is visiting, previously wearing a maple leaf brooch and choosing an outfit in the colours of the Canadian flag, during her visit to Canada last year.
Kate accessorized the dress with cream satin heels, a clutch bag and simple pearl drop earrings, with her flowing brunette locks pulled back in a half up-do.
William meanwhile was dashing in a navy suit, a white shirt and a sky blue tie.
Despite their long-haul flight, there will be no rest for the couple today, as they continue their tour tonight at a State dinner given by the President of Singapore at his official residence, the Istana.
William will review a Guard of Honour on arrival at the Istana before the couple pay official calls on the Prime Minister and the President of Singapore.
They will then join guests at a reception before sitting down to dinner, during which William will give an address on behalf of The Queen.
Over the coming days the Duke and Duchess will travel to Kuala Lumpur, Malaysia and Sabah, Malaysia, as well as the Solomon Islands and Tuvalu.
Key points of the visit include a trip to Kranji Commonwealth War Cemetery, a visit to Rolls Royce aircraft engine factory, a trek through the jungle and a hospice visit, during which Duchess Kate will give her first overseas speech.
The Duke and Duchess's tour runs from today (September 11) until September 19 and looks set to be as big a hit as the couple's Canada tour last summer, with members of the press from all over the world travelling to cover the couple's visits.
Related articles
People who read this story also read