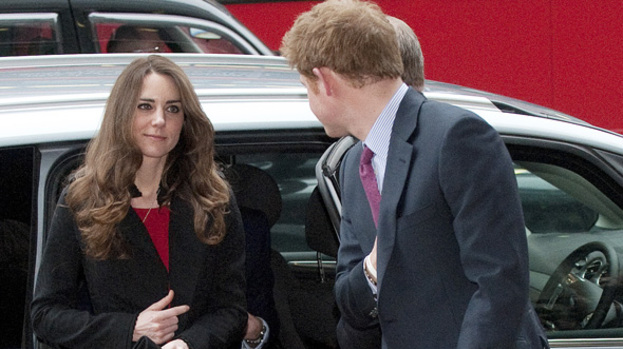 Prince Harry hasn't had the easiest of times of late, after pictures of him flashing more than a smile in Las Vegas emerged on a U.S. website.
Keen to lie low and keep out of the spotlight, Harry knew he could turn to sister-in-law Kate for advice, as the pair have built up an extremely close bond over the past few years.
The Duchess of Cambridge is said to have taken Harry under her wing, inviting him round for dinner at the home she shares with her husband, Harry's brother Prince William, for hearty, comforting meals.
She has also been teaching him how to cook quick, simple and nutritious recipes as she worries he doesn't maintain a healthy balanced diet when jetting across the globe.
Kate is extremely protective towards the 27-year-old and often offers him relationship advice, so she is sure to have had a few choice words for the flame-haired Prince, when it came to facing up to his naked antics.
Now, as a way of thanking his beloved sister-in-law for all her help and support, Harry has offered to give the Duchess flying lessons, so she can fulfil her dream of acquiring a Fixed Win Pilot's License.
Prince William has a packed schedule with RAF duties and hasn't yet found time in his diary to show his wife the ropes, but Harry was more than happy to offer his services.
A source told Ok! magazine: "Harry immediately offered and the Duchess is thrilled."
Previously speaking of his joy at welcoming Kate into the Royal Family, Harry said: "My brother is very lucky to have her and she is very lucky to have him. They are a perfect match."
Both Harry and Kate have been enjoying events at the Paralympics, but while they teamed up to attend the closing ceremony of the Olympic games last month, it looks like Harry will have to fly solo at the Paralympics closing, as Kate will be busy preparing for her Diamond Jubilee Tour of Asia and the South Pacific.
Related articles
People who read this story also read