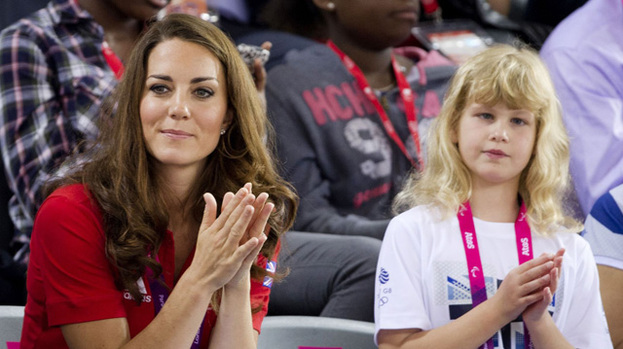 Kate Middleton once again showed off the caring, approachable side that she's become famous for, as the Duchess of Cambridge took William's young cousin Lady Louise Windsor under her wing at the Paralympic Games today.
The Duchess was attending the cycling at the first day of the Games alongside her husband Prince William, Lady Louise and her mother Sophie, Countess of Wessex, and deputy chairman of British Rowing Annamarie Phelps.
And the Royal party clearly acted as a lucky charm, with British Paralympic hopeful Sarah Storey smashing her own world record and qualifying for the C5 individual pursuit final with an impressive time of three minutes 32.170 seconds.
Seven-times Paralympic champion Sarah will be aiming for up to four gold medals during the Games, and today's effort won her the first one.
The Royal group could be seen getting fully into the swing of things as they became embroiled in the sporting action.
And during the event, Kate made sure the youngest of the party wasn't left out in any way, by chatting away to the eight-year-old, pointing out the athletes to the youngster and explaining parts about the competition.
Lady Louise was one of Kate's flower girls on the day of her wedding to Prince William last April, and the Duchess has clearly become very fond of the cute blonde, who is William's cousin.
Kate loves children; earlier this year she joined a group of school children on a camping trip, designed to boost their confidence and leadership skills.
She also works with a number of charities and organisations based around youngsters, including her patronages with East Anglia's Children's Hospices and The Art Room, a charity which uses art therapy to help improve the lives and prospects of children, many of whom are disengaged from mainstream education, disruptive or withdrawn.
Kate, who is one of the Royal ambassadors of the Paralympics, was clearly enjoying herself today joining in with a Mexican Wave at one point and regularly seen laughing away during the day's sporting events.
And at one point she and William were also snapped gazing into each other's eyes, sharing a rare intimate moment in public.
Dressed casually in a red polo shirt, the Duchess looked stunning once again and showed no signs of tiredness despite a late night last night, partying at the Paralympics Opening Ceremony.
Related articles