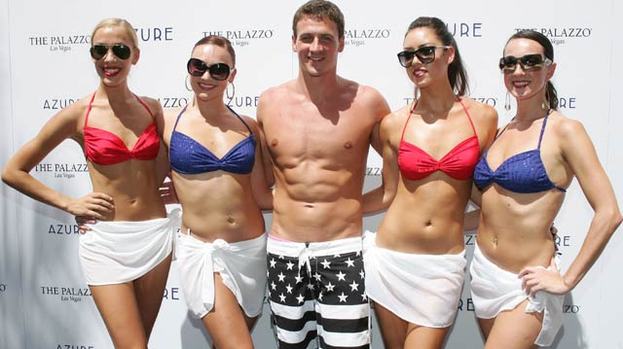 While Prince Harry is hanging his head in shame after what happened in Vegas sadly didn't manage to stay in Vegas, Ryan Lochte has been revealing all about his weekend encounter with the party loving Prince.
Swimmer Ryan, who scooped two gold, two silver and one bronze medal at the Olympics this summer, was celebrating his 28th birthday at the same hotel Harry and his friends were staying in and he was more than delighted when the sporty Royal challenged him to a race.
Speaking during an interview on the Today show, Ryan told presenter Matt Lauer: "We were at the same pool party and his people came over to my table and said Prince Harry wants to meet you and I was like, "Okay, let's go meet him"'."
The talented Olympian continued: "He said, "Do you want to race me in the pool?" And I just took off my shirt and jumped in and we just started racing."
Clearly impressed with the down-to-earth nature of the Royal, Ryan added: "He's really a nice guy, really talkative. He just wanted to meet me and wanted to race me, and I thought that was the coolest thing."
Although the pair got on well, Ryan wasn't invited to Harry's now infamous billiard party, something he is extremely glad of.
He told Matt: "I don't need that." Bet Harry wishes he had thought better of it now…
Flash Harry, as he will now forever be known, and his BFFs reportedly invited a bunch of girls up to their VIP hotel suite to indulge in a game of strip billiards.
What no doubt seemed like great fun at the time has now ended up an embarrassing nightmare for the Prince, after American celebrity website TMZ.com published photographs of Harry from the night, partying in his birthday suit. Or, as others have put it, flashing his crown jewels.
The tales of the naked Prince have made headlines throughout the world and St James's Palace has confirmed that it is indeed Prince Harry who is in the photographs, although has made no further comment about the images.
Harry is now believed to be heading home to face the music, and no doubt a few choice words from his granny, the Queen.
Related articles