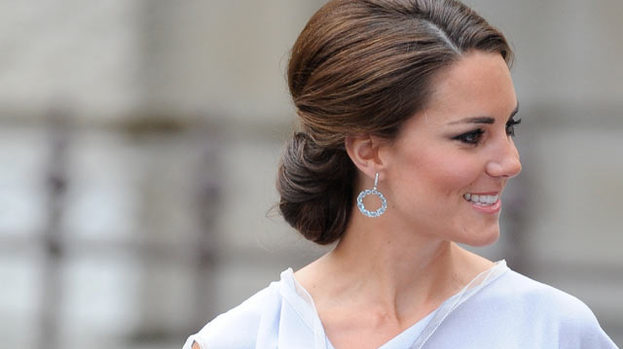 Kate Middleton is offering Royal fans from Malaysia the opportunity of a lifetime next month, when the Duchess of Cambridge hosts a very special tea party.
Duchess Kate and her husband Prince William are touring to Malaysia, Singapore, the Solomon Islands and Tuvalu, formerly known as the Ellice Islands, next month, as part of the Queen's Diamond Jubilee celebrations this year.
During their tour, the couple will make a number of important visits and will also enjoy an adventure, visiting the rainforests of Borneo, including trekking through Sabah, where some of the world's most exotic animals live.
They'll get the chance to see the endangered Bornean orangutan and the Sumatran rhinoceros up close, as well as view up to 15,000 species of flowering plants and 420 species of birds.
But Duchess Kate will be making sure to swap her Wellington boots for one of her elegant frocks and her now-famous sleek waved hair, when she hosts an intimate tea party for two lucky competition winners.
Kate, 30, is to host the special event in Malaysia alongside the British High Commission, and locals are being invited to enter a competition to win one of two places at the table.
Fans of the stunning Duchess are being asked to send a 'creative' photograph of themselves drinking tea, to be in with a shot of winning the coveted prize.
We certainly wouldn't mind spending the afternoon sipping tea and mulling over the latest showbiz gossip with the Duchess!
The Diamond Jubilee will be a fun time for the Royal couple, but it will also be incredibly busy, so Kate and Wills are believed to be planning to escape the hustle and bustle of everyday life with a break in Scotland before they head off on their adventure on September 11.
The Duke and Duchess of Cambridge are reportedly planning a romantic getaway at Tam-na-Ghar cottage in the same grounds of Balmoral Castle, where the Queen and the Duke of Edinburgh are currently holidaying.
The setting is famous for its stunning scenery and luscious grounds, perfect for the couple to indulge in some much needed R&R. They can also indulge in activities including hillwalking and fishing at the nearby River Dee if the fancy takes them.
More About Royal Family
Related articles