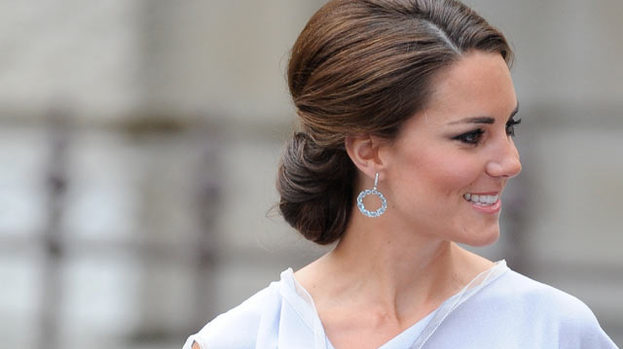 It was fantastic to see the Duke and Duchess of Cambridge and Prince Harry attend numerous events at London 2012, as they threw themselves into their roles as official Olympics Ambassadors.
But it seems we're not going to be able to get our daily does of marvelling at Kate's fashion choices for some time now as the Duchess is said to be stepping out of the spotlight for the next few weeks, in preparation for her forthcoming Diamond Jubilee tour with Prince William.
According to marieclaire.co.uk, Kate's schedule has been cut back ahead of her trip away, where she and Wills will visit the rain forests of Borneo as well as Malaysia, Singapore, the Solomon Islands and Tuvalu.
The week long tour kicks off on Tuesday September 11 and Kate is set to host a tea party in Malaysia, which Royal fans will be given the chance to attend.
The Ultimate Royal Tea Party Competition has been organised by the country's British High Commission and all hopefuls have to do is send in a picture of themselves sipping on a brew and two winners will be chosen to join Kate at the exquisite bash. Tea with the Duchess? That will be something special.
British High Commissioner Simon Featherstone said: "What better way to mark this very special Royal occasion than by inviting everyone to join in the celebration and send in a photo which demonstrates their creativity."
During their trip, Kate and Wills are also expected to trek through Sabah, which is home to some of the world's most exotic and rare animals, including the endangered Bornean orangutan.
They will stop off in Kuala Lumpur and Sabah, Borneo, before arriving in the Solomon Islands on Sunday September 16.
On the last day of their trip, Wednesday September 19, Kate and William will move onto Tuvalu, which is the fourth smallest country in the world, where they'll enjoy an overnight stay in the country's only hotel, before heading back to the UK.
The couple are extremely excited about their upcoming trip, and back in June Kate revealed William had even been practicing his dance moves in anticipation of their visit to the Solomon Islands.
According to itv.com, the Prince said: "We're extremely excited. Both of us have never been anywhere near there," before a giggling Kate added: "William's been practising his dance moves."
Related articles