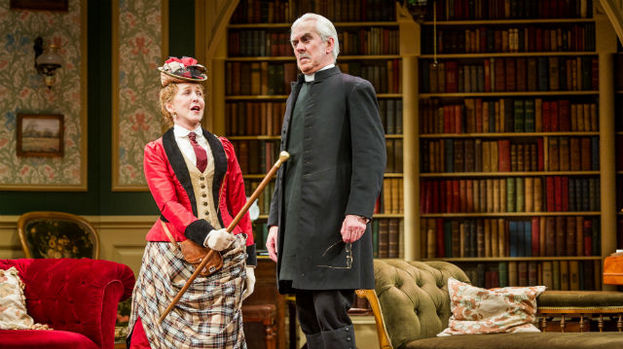 With a show title like Dandy Dick, you can't help thinking you're thinking you're going to be in for a "whoops vicar!" type farce. And so it proves here in Arthur Wing Pinero's classic Victorian farce, written in Brighton in 1887.
Except, rather than trousers being dropped, and bare backsides exposed, it's the dropping of moral standards and loss of moral turpitude, (albeit temporarily), by the clergy that fuels the action here.
The inaugural production by the newly formed Theatre Royal Brighton Productions, Pinero's comedy focuses on a calamitous day at the races involving horse-doping, a debt- ridden, disgraced Dean, and all manner of jolly japes, with the whole thing played at a gallop in Christopher Luscombe's handsome, and highly stylised production.
Nicholas Le Prevost plays the very, very Reverend Augustin Jedd, whose quiet idyll at the Deanery at St Marvells is disturbed by the arrival of his estranged sister, Georgiania Tidman, (Patricia Hodge), a feisty filly familiar with the ways of the turf come to live with him, who refers to everything in equine terms.
Georgiania's acceptance into the fold is strictly on the basis that she has given up her bad,old ways. But of course this being farce, the truth turns out to be somewhat different, with Georgiania (George Tid) to those who frequent the track), hoping to make a bundle on a dead cert, Dandy Dick, that she's partners in, at the following day's races.
From here on in things take ever more mirthful turns, as the cash strapped Dean, who is committed to raising £1,000 for the restoration of the spire of the Minster, and driven to distraction by the debts his two daughters Salome and Sheba have racked up, succumbs to temptation and sticks £50 on Dandy Dick. In an attempt to provide the horse with a pick-me-up, he gets caught up in a horse- doping scandal that sees him end up in the cell of the local bobby, where his only consolation is the sympathetic ministrations of the Constable's wife, a wonderful cameo turn from Rachel Lumberg, that see him accused of sexual solicitation.
Nicholas Le Prevost is suitably ruffled and befuddled as the dry old Dean whose respectability is crumbling before his eyes. Patricia Hodge makes for a lithe and lively Georgiania, while Michael Cochrane plays bluff old cove and the Dean's old Oxford chum, Sir Tristram, with thigh slapping abandon.
Florence Andrews and Jennifer Rhodes are also a delight as the two self- obsessed sisters courted by a couple of soldiers, and Luscombe makes good use of their singing talents during a set change that seems entirely fitting with Victorian theatre fare.
If the shock horror of a Vicar tempted by horseflesh seems far less shocking now in an age of Father Ted than it would have done when Pinero conceived it, Luscombe's production, played with gusto by an excellent cast against Janet Bird's plush Deanery set, is still a clear winner, well worth taking a punt on.
Dandy Dick, Theatre Royal, Glasgow, until Aug 12. Tel 0844 871 7647: