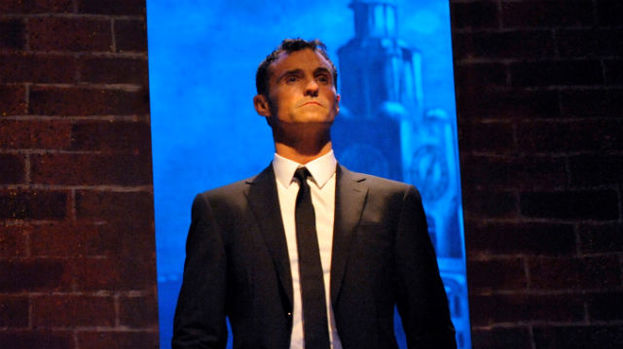 Willy Russell's smash-hit musical has been going strong for nearly 30 years. On this showing it's easy to see why.
An evergreen staple of musical theatre-be it in London's West End or out on tour-the show has become something of a phenomenon. And the current cast, which includes Marti pillow as the narrartor, and Maureen Nolan as Liverpool housewife Mrs Johnstone, are as strong as any that ahev gone before.
With money tight, her husband gone, seven mouths to feed, and twins on the way, Mrs Johnstone is faced with a heart-breaking decision as she gives away one of her twin boys to the woman whose house she cleans.
From there Russell's nature versus nurture theme emerges as the boys, Scouse scallywag Mickey Johnstone (Sean Jones) and well- to- do, posh boy Eddie (Matthew Collyer) becomes childhood friends, "blood brothers" in fact, and we follow the paths their very different lives take until the tale's tragic end (revealed briefly at the very beginning), in which they both lay dead.
In a feat of staggering creativity, Russell wrote not only the book, but the music and the lyrics too for this dissection of class in British society. And it's the strong narrative that is the show's greatest strength, with the story and characters both imbued with plenty of emotional depth. Not least in Russell's evocation of childhood.
Nolan turns in a deft performance full of warmth as Mrs Johnstone, while Wet Wet Wet star Pellow (who, of course was given a rousing cheer the moment he first appeared), prowls the stage with devilish menace as the show's narrator. Even if his thick Liverpool accent can be difficult to pick up at times.Kelly Anne-Gower also turns in an excellent performance as Linda, the girl bothy boys love, but who ends up married to Mickey with troubled results as he finds himself on the dole and on medication while Eddie becomes a local councillor.
But the focus of the show is in its title, and while Collyer was just a bit too wet for me as Eddie, Jones totally shines as Mickey, providing the show with comedy and drama in equal measure, with real aplomb and energy.
True the musical numbers be not be the sort of toe- tapping hits you'll find yourself humming after the show, you might find in glitzier shows, but they're still really powerful (Marilyn Monroe; Tell Me It's Not True), and serve the narrative strongly, rather than feeling dropped in as add-ons. The end result is an emotional rollercoaster that will no doubt be gripping audiences for many more years to come.
Blood Brothers, King's, Glasgow until Sat Jul 14. Tel: 0844 871 7648
People who read this story also read