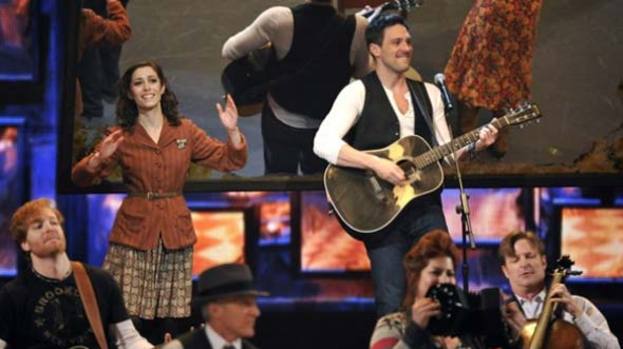 John Tiffany, the second in command at the National Theatre of Scotland (NTS), has won a coveted Tony award for his Broadway production of new musical Once.
Once swept the board with eight awards for its largely British production team. Alongside Tiffany, Steve Kazee won best actor in a musical, Enda Walsh won best book and Bob Crowley won best design while the show itself was best musical overall.
Described as a "melancholy bar-room musical", the show is based on a low budget Irish film, reversing the trend which has seen a string of films, including Legally Blonde and The Lion King, adapted for the stage.
Tiffany has become known on Broadway as a result of some recent NTS successes in New York, notably Black Watch, but Once was his debut show on the Great White Way.
Tiffany accepted the award in person saying, "Once is a story about when people believe in each other, they can move on in life, and so many people have believed in this project,"
Neil Murray, Executive Producer, National Theatre of Scotland said: "The National Theatre of Scotland is thrilled at the success of John Tiffany's production of Once at the 2012 Tony Awards in New York. To win a total of 8 awards including Best Director for John and Best Orchestrations for our collaborator Martin Lowe, is a remarkable achievement. We are extremely proud of John and all of his team on Once".
James Corden was another British winner on the night, picking up the Best Actor in a Play award for his turn in One Man, Two Guv'nors, a Royal National Theatre production from London
The NTS picked up three more awards in Scotland on the same day at the Critics Awards for Theatre in Scotland, for best ensemble, best technical presentation and best overall production.