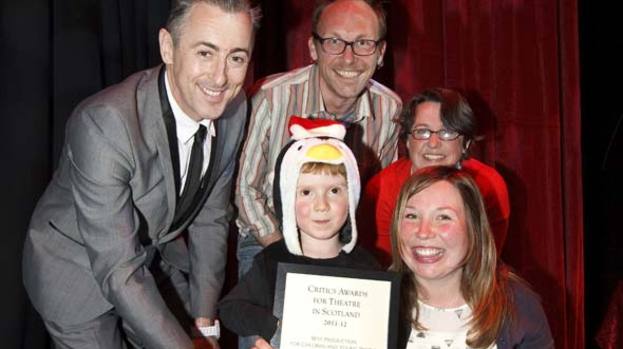 For the second time in its ten year history, the Critics Award for Theatre in Scotland (CATS) for Best Production has gone to a version of Charles Dickens' A Christmas Carol. Graham McLaren's thoroughly Dickensian production, for the National Theatre of Scotland, was staged in a room in the former Govan Town Hall, now Film City, which was tricked out to feel as if the audience was actually sitting in the premises of Ebeneezer Scrooge.

The ghosts and visions that visit Scrooge on his fateful Christmas Eve, were portrayed by a series of elaborate and often grotesque puppets, operated by the multi-purpose cast, who also carried off the Best Ensemble award, sponsored by Equity.

Joyce McMillan, drama critic of The Scotsman news paper, who is joint convenor of the awards, said the production, "created an astonishingly powerful and detailed piece of immersive theatre that made a profound impact on last year's Christmas season in Scottish theatre."

The awards, now in their tenth year, were presented by the actor Alan Cumming, shortly to appear as Macbeth in his own production of the Scottish play at Tramway in Glasgow, in a packed ceremony at the Tron Theatre in Glasgow yesterday [Sunday]

Other big winners were Dundee Rep's production of Further than the Furthest Thing won best actress, sponsored by STV, fand best design. It was a fitting send off for Dundee's outgoing artistic director James Brining, whose farewell production it was.

The Citizens in Glasgow also picked up two awards . New artistic director Dominic Hill, formerly a partner of Brining's in Dundee, won best director for his production of Harold Pinter's Betrayal and Paddy Cunneen won Best Music for the second time for his contribution to King Lear, also directed by Hill.

But there were first time wins for the children's theatre company, Frozen Charlotte for their show Too Many Penguins for very young children, and for the Bard in the Botanics company, whose annual season of Shakespeare in Glasqow's Botanic Gardens is about to start, and for whom Stephen Clyde carried off the best actor award as Bottom in last year's night club style A Midsummer Night's Dream.
The CATS, which are chosen by Scotland's theatre critics, celebrated their 10th anniversary with a special CATS Whiskers award to David MacLennan, the producer of the A Play A Pie and a Pint series of lunchtime theatre at Oran Mor in Glasgow, and with new sponsorship from BBC Scotland's radio drama department.

Ms McMillan added: "All the CATS judges are delighted and thrilled by sheer range of Scottish theatre work reflected in this year's list of CATS winners. Scottish theatre artists create work across a dazzling range of styles and genres, both traditional and cutting-edge; and our winners represent the very best that each of them has to offer."
People who read this story also read