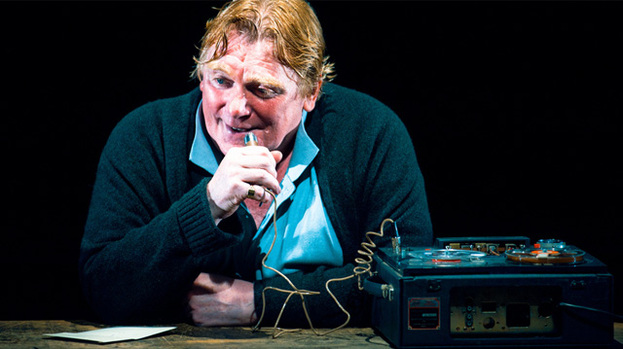 You can always tell when an actor has his or her audience's attention. There is a quality of silence which is almost tangible, at once unmistakable and thrilling to be part of. It was much in evidence at the Glasgow Citizens at the opening of this Samuel Beckett double-bill of Krapp's Last Tape and Footfalls.

Not for director Dominic Hill some hidden-away Studio production either. This was in the main house, red plush curtain and all. And here was the splendid Gerard Murphy, back where it more or less all began for him.
There is a little more of him than there was when he played Diaghilev in Robert David Macdonald's scintillating play Chinchilla in 1977, the first Citizens production I ever saw. But his bulk, dwarfing the deliberately too-small desk at which he sits, brings weight in every sense to poor old Krapp, revisiting his younger self on tape, disgusted that he once deluded himself that he had something called promise or indeed that there could be such a thing.

The paraphernalia of the old reel to reel machine makes the play seem almost antique. Yet you cannot imagine Krapp's Last MP3 Player; at the very least, there would be no scope for the actor to wrap his mouth around the word "spool".
Murphy relishes that, and the bananas, and the suspicious noises off (or, at least, in the darkness outside the single pool of light over the desk), with all the enthusiasm of a man still clinging to life even though he knows the game is up. Mortality is a bitch, as almost everything Beckett wrote suggests, but that's all there is.

In Footfalls, a later play, even the possibility of life seems to be in question. Who is this barely visible woman, hunched in the cramped, supplicating pose Beckett specifies, restlessly pacing her nine steps from side to side? Not for nothing, in Beckett's linguistically intense idiom, is her name May; she may be, or, indeed, she may not. Beckett's English muse, the great Billie Whitelaw, for whom the play was written, asked him once if May was in fact dead. In a rare moment of explanation, he conceded, "Let's just say you're not quite there".

Here May is played by Kathryn Howden, another actor who commands attention by her very presence. The brief exchanges of words – one can hardly call them dialogue - with the voice of her unseen mother (Kay Gallie's extraordinary voice manages to make her presence felt without being seen at all) are elusive, mysterious, ghostly.
Some say it is Beckett's lament for his mother, also called May, or perhaps for all mothers. Either way, the sense of loss, as the increasingly dim lights rise on the four scenes is palpable.

So, Pinter, Shakespeare and Beckett for Hill's first three shows at the Citizens and all strikingly impressive. The old lady of the Gorbals is back.

Krapp's Last Tape/Footfalls, Citizens, Glasgow, until June 9; 0141 429 0022