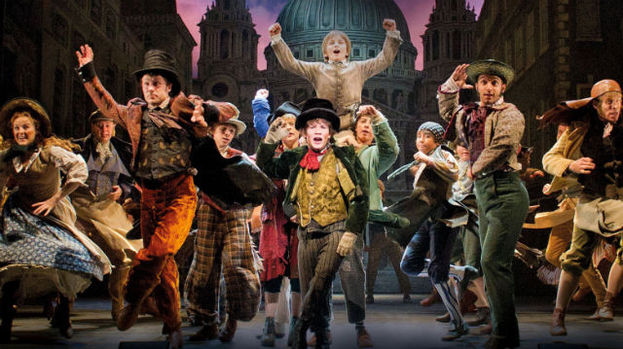 As fans of Lionel Bart's much loved musical take on Oliver Twist, know only too well, "you've got to pick a pocket or two."
But penny pinching was clearly the furthest thing from Cameron Mackintosh's mind when he decided to revive Bart's take on Dickens' novel at Drury Lane in 2009, with the show opening to the biggest advance ever recorded in the West End.
As TV star and comedian Brian Conley, who stars here as Fagin, has been quick to point out in interviews for this UK touring production of the show, "Mackintosh doesn't do small."
One look at this lavish, no-expense-spared production, which boasts 15 musicians in the orchestra pit, not to mention big ensemble numbers featuring a staggering cast of 55, it's easy to see what he means. Recession? What recession? Never, it seems, has Dickensian poverty been given such a lovingly lavish makeover.
Slickly directed by Laurence Connor, with lively choreography from Mathew Bourne, the show is a sumptuous feast of family entertainment from start to finish. .
And all of it is played out against a breath-taking split level set from designers Totie Driver and Adrian Vaux that atmospherically captures the bustling streets and dark alleyways of London one minute, only to be transformed into Fagin's underground den of thieves the next.
Conley makes for a fine Fagin, nimbly and surefootedly leading the line as Pied Piper to his gang of street urchin thieves in You've Got To Pick A Pocket Or Two. His performance throughout the evening shifts entertainingly between shades of light and dark.
Cat Simmons puts in a lung bursting turn as bawdy, tart-with-a-heart, Nancy, belting out lover's lament As Long As He Needs Me with a show-stopping gusto that had the audience cheering both during both the original number, and its reprise, even if her cockney accent tended to come and go during the song.
But for me, the highlight of the night, among many in a show brimming with catchy tunes, including a lively Consider Yourself, was the wonderfully delivered ensemble take on Who Will Buy?
Harry Polden makes for an impressive Oliver, his cherubic innocence matched by an equally angelic, crystal clear choirboy voice. Max Griesbach, the Artful Dodger on press night, wasn't found lacking in street urchin cheeky chappynnes, although his character, like most of the others, could do with being more fleshed out here.
Elsewhere an angular, long-limbed David Langham, looking like a cross between Beetlejuice and an Edward Gorey cartoon, turns in an excellent cameo as cruel undertaker, Mr Sowerberry, while. Stephen Moore gives a subtle performance as rich benefactor, Mr Brownlow. Hats off too, to all the kids who took part, without whom Oliver! would be nothing.
Not that the show is totally critic proof. For me, the fact that Bart's sentimental original and this production only scrapes the surface of the social conscience, heart of darkness of Dickens' original, is neither here nor there. This is Oliver! the musical, and Mackintosh's production is pure showbiz catnip.
But there are moments when Conley milks the comedy too much, momentarily breaking the magic of its spell.
So the first sight of black hearted blackguard Bill Sykes (a suitably sinister Iain Fletcher) loses the impact that it should have, by Conley playing to the gallery for laughs. Likewise I could have done without the violin gag that punctuated his otherwise show-stopping rendition of comedy solo, Reviewing the Situation.
But these are minor quibbles in what is a must-see show for all the family, one that left the audience enthusiastically wanting more come the finale.
Oliver!, Edinburgh Playhouse, until June 23. Tel 0844 871 3014